Dallas — Kansas University women's basketball coach Bonnie Henrickson and two of her seniors traveled to Texas for Big 12 Media Day on Wednesday.
It's hoped Erica Hallman, Crystal Kemp and their mentor enjoyed the view from the friendly skies.
They won't be leaving Lawrence again until Jan. 7, when the Jayhawks go to Nebraska to face the Huskers.
Amazingly, the Jayhawks will play their first 12 regular-season games at Allen Fieldhouse.
No nonconference road games are on the slate since the announcement that a round-robin tournament in New Orleans would be moved to Lawrence Dec. 2-3 in the wake of Hurricane Katrina.
"I think we're the envy of most programs now. I get a lot of phone calls and e-mails, harassing e-mails from my colleagues in this business (saying), 'How on earth did that happen?''' Henrickson said, smiling. "That's commitment and goes back to the reason myself and our staff chose to come to Kansas, the commitment by our administration.
"Kills our frequent (-flier) miles, though."
The second-year coach wanted to take her team to the Big Easy, yet understands the value of getting her program established before heading to many enemy gyms during the nonconference season.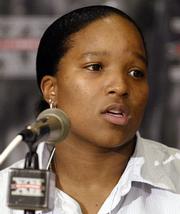 "I think right now we'll grow, and we'll play on the road a little bit more, and we have already talked about that as our recruiting classes improve, our schedule, our strength of schedule : those things will improve," Henrickson said.
"It's important for us right now to learn to win, be successful, gain some momentum in our program, and we certainly think having the opportunity to play in Allen Fieldhouse as much as we can will enhance our chances."
Kemp, a preseason honorable-mention All-Big 12 pick who hails from Topeka, admits she was looking forward to the trip to New Orleans.
"It would have been nice. We'd talked about going to Bourbon Street," she said. "It (hurricane) is so unfortunate for the people there. They are doing a good job of coming back, and now they'll come and play at our place (for Dec. 3 game).
"In a way it's disappointing I can't travel my senior year, but to have extra games in Allen Fieldhouse : I think it's wonderful."
KU will have 21 home games counting two exhibitions and Big 12 contests.
"It'll definitely get the crowd behind us," Kemp said. "Even if it's just the scores being in the paper, people will see them and maybe want to come out and watch."
Hallman said: "Everybody wants to play home games, and now we play even more. Hopefully we'll do well in those games leading into the Big 12, which might be the toughest conference in the country. If we can have a good record : our league is so tough, six or seven teams will go to the NCAAs. If we can get 20 wins under our belt, that could happen."
KU could be in for a shock once it hits the road in Big 12 play.
The Jayhawks open league competition at home - where else? - versus Texas on Jan. 3 before heading to Nebraska and Colorado on Jan. 7 and 10.
"We will live with what negatives there might be," Henrickson said. "That might be (negative). For now, we'll go with the positives of being at home."
Copyright 2018 The Lawrence Journal-World. All rights reserved. This material may not be published, broadcast, rewritten or redistributed. We strive to uphold our values for every story published.