Journal-World sports writer Jesse Newell is preparing himself for Sunday's walk-on tryout for the Kansas University men's basketball team. The following is the second column in his attempt to learn all he can from KU coaches and players before the tryout.
There is one thing I know for sure when trying out Sunday: I will be at a height disadvantage.
Standing around 5-foot-10 with shoes on (5-8 without), I am bound to go up against players that are taller and wider than me.
The key will be not only to keep them off the blocks inside, but also to develop a strong go-to post move that can get the defender off-balance enough for me to score.
For help with this, I turn to Kansas big man Darnell Jackson.
Though he is known mostly as a defensive stopper, the Oklahoma City forward has also had to find a way to get shots off against shot-blockers C.J. Giles and Sasha Kaun in practice.
Not an easy task, so I ask him what the best move for me would be - one that I could learn in, say, a week or so.
"The one I learned was from coach Jank - the up-and-under," Jackson says, referring to assistant coach Tim Jankovich.
The first good sign for me is that I've heard of this before. The second good sign is that it just sounds simple. How could I screw up going up and then going under?
Jackson tells me there are many ways.
"You have to stay low and stay above the block," he says, his words getting quicker. "You get the ball, face up, always keep your eyes on the goal and fake the opponent."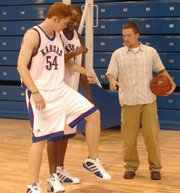 I frantically takes notes. Stay low but above. Face up, eyes on goal.
"If he jumps, go under and shoot the left-handed layup."
He then pauses and looks at me.
"Or the right-handed layup."
Yeah, Darnell. The right-handed layup. It doesn't matter where I am on the court. The right-handed layup probably will be my weapon of choice.
Jackson tells me this is his favorite move and that it could become my bread-and-butter in the post as well.
I agree, but know that I need a demonstration first. Maybe the "low but above" part will make more sense then.
I ask him to grab one of his teammates so he can show me his moves, and he chooses good friend and walk-on Matt Kleinmann to beat up on.
Note to self: Doing what I'm told just like Kleinmann has done also might be a requirement when I make the team as a walk-on.
Jackson goes slowly, squaring to face the goal, getting Kleinmann to jump, then taking one dribble and finishing with the left-handed layup. After two more times, this looks like the simplest move in the book. I know not even to attempt it in front of them.
He also gives a bonus and shows me the "Sasha move." This involves dipping your shoulders almost to the ground, then thrusting your elbow into the defender while rising up to clear some space and shoot a layup.
I tell the guys I've seen this move before, though I'm not exactly sure where.
I then ask Jackson about defense. This might be most important if some 6-foot-2 fratboy tries to get physical with me.
"Stay on his body. Get low," he says. "Just don't let him push you out of your position where you're at. You always have to be finding the spot on the block and stay there."
Then I ask the most important question: Is there a way to cheat and get away with it?
"Yeah, you just put your elbow right here in the ribs," he says, giving a kidney shot to Kleinmann, who winces but tries not to show pain on his face. "Shove him a little bit and get him out of the way."
And the officials can't see that?
"Nah, they can't see that," he says.
It was my turn to try. I tell Jackson to step to the side, and I take my spot behind Kleinmann in the post.
Then, with Jackson's blessing, I attempt to cheat. I shove my elbow as hard as I can into Kleinmann's side to clear him out.
One problem. The big man doesn't move.
I try again, this time trying to thrust harder. I see a smile cross Kleinmann's face.
I still haven't moved him an inch.
Am I doing this right, Darnell?
He nods, making me realize what I didn't want to.
I still have so much to learn.
Copyright 2018 The Lawrence Journal-World. All rights reserved. This material may not be published, broadcast, rewritten or redistributed. We strive to uphold our values for every story published.