Dallas — A relaxed Quin Snyder was chit-chatting with a handful of reporters Wednesday in a Harvey Hotel interview room when a Big 12 Conference Media Day official requested the meeting be moved into an adjacent hallway.
Texas Tech was set to take the main stage.
"You trying to get me out of here? It seems to be a common theme these days," Snyder, Missouri's seventh-year men's basketball coach, said with a wry smile.
Snyder, who may need a 2006 NCAA Tournament berth to save his job, chatted openly - sometimes jokingly, other times defiantly - about his job status Wednesday.
"They may can my (rear end)," Snyder said, apparently referring to MU officials, "and you know what? I'll feel good about it. I feel great about what I've done at Missouri. I'm proud of the fact we built an arena while I was here. I know how that got built. There's been a lot of excitement around here."
He also said he was proud of six straight postseason berths, an Elite Eight and four NCAA Tournament teams.
"I regret the quote, unquote investigation," Snyder said of an NCAA investigation that resulted in Snyder not being able to recruit off campus. "But I know we haven't had a violation in three years. I don't need to even talk about that."
Snyder said he had hired his own lawyer to make sure he was aware of all rules and regulations.
Snyder, who paced back and forth at times while speaking to reporters in an animated matter, indicated his wife - hard to tell if he was joking or not - was interviewed by NCAA officials about fixing a Tiger player a grilled-cheese sandwich.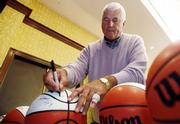 He also joked that players now could come over for a steak on the grill, as long as proper forms were filled out.
He spotted a Journal-World name tag and needled the reporter.
"Was your paper the one that ran, 'Fire Quin?''' Snyder asked good-naturedly.
He was told that ran in the Kansas University student publication.
His reaction?
"I didn't really pay attention to it, I just wanted to get a copy and frame it," he said with a grin. "It's not happened yet, right? But I bet some people wish it would.
"This year, whether we want to call it a stepping stone or whatever, our guys are excited."
Copyright 2018 The Lawrence Journal-World. All rights reserved. This material may not be published, broadcast, rewritten or redistributed. We strive to uphold our values for every story published.