The 6U coed Sharpshooters earned their nickname Saturday at Youth Sports Inc. during their soccer match versus the Jayhawks.
The Sharpshooters outscored the Jayhawks 6-4 to earn the victory.
The game started out in the Sharpshooters' favor with four goals during the first quarter. Forward Edward O'Neal scored the first goal of the afternoon by beating all three of the Jayhawks defenders to shoot on an open goal.
After O'Neal's goal, forward Cameron Buzhardt showed off her sharp shooting skills by rattling off three consecutive goals. The Jayhawks tried to rotate in different defensive players to stop Buzhardt's attack, but the only thing that stopped the Sharpshooters' attack was the end-of-the quarter whistle.
The Sharpshooters' offense slowed during the second quarter after substitutions. The Jayhawks took advantage of the Sharpshooters' slower offense by stepping up their own offensive attack.
Jayhawk Landon Sloan touched the ball 15 feet in front of all six players on the field and then sprinted forward to slip the ball into the goal to bring the Jayhawks within three goals.
The Jayhawks started the second half off with a quick goal to cut the Sharpshooters' lead in half.
Both teams scored very odd goals during the remainder of the second half.
The Jayhawks scored the next goal, but it was in their own net. A Jayhawks defender tried to clear the ball from in front of the goal, but it bounced off the leg of another Jayhawk defender, and the ball rolled into the Sharpshooters' goal. That turned out to be the final goal of the third quarter and left the score 5-2 with just eight minutes remaining.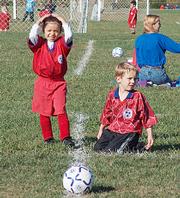 The fourth quarter started off normal with a routine goal by Jayhawks forward Mikayla Downs. Downs booted a ball out of the pack of players and into the corner of the net.
After Downs' goal, the Sharpshooters returned the own goal favor by chipping a shot into their own net. The Jayhawks pulled within one goal with less than three minutes to go in the game.
However, the Jayhawks were unable to capitalize on the free goal from the Sharpshooters when Buzhardt added her fourth goal of the game to leave the score 6-4.
Copyright 2018 The Lawrence Journal-World. All rights reserved. This material may not be published, broadcast, rewritten or redistributed. We strive to uphold our values for every story published.