Topeka — Christians should be worrying more about the poor and less about issues such as gay marriage, the state's top Methodist bishop said Tuesday.
"The Bible gives much more attention to poverty and its related issues than it does to sex," Scott Jones said, prompting applause from the audience of 140 pastors, activists and social workers gathered at a Methodist-sponsored conference.
If Jones has his way, there will soon be a new voice in the state's debate over health care and services for the poor.
"In the coming year, I hope you'll be hearing a lot more from the United Methodists than you did a year ago," Jones, bishop for the Kansas Area United Methodist Church, said.
Jones vowed to lead a church-based initiative aimed at reminding the state's conservative politicians that as Christians, they ought to care less about issues such as banning gay marriage, and more about ensuring health care and justice for the poor.
"I am convinced that God cares deeply how we treat persons who are in need and that a faithful, holistic reading of the Bible will lead us to give a much higher degree of attention to issues of poverty than they have been getting in recent political debates."
The state's poor, Jones said, warrant the same level of compassion as do victims of Hurricane Katrina and the tsunami that struck South Asia late last year.
Jones said he and his Episcopal and Lutheran counterparts will issue nonpartisan position papers on several issues prior to the 2006 legislative session.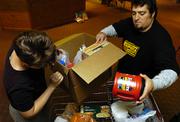 In one of the papers, he said, the churches will argue that access to health care should be viewed as a right rather than a privilege for the insured. Recent surveys have found that 300,000 Kansans do not have health insurance.
Jones also said he expects the group to oppose the conservative-led Taxpayers' Bill of Rights initiative. He called the initiative "a great deception."
Jones' comments coincide with legislators looking for ways to limit increases in the state's $1.8 billion Medicaid budget.
Medicaid, a 60/40 blend of federal and state funds, underwrites health care for the poor.
Rep. Brenda Landwehr, a conservative Republican from Wichita, said she would welcome the churches' input.
"The Kansas Catholic Conference puts together a report every year. I'm Catholic, I read it every year," she said.
But Landwehr, a key player in assembling the state's social-services budget, warned that legislators in 2006 will be hard-pressed to come up with enough money to fund public schools and increase services for the poor.
"I'm very concerned that pretty soon, we're going to have one budget - the schools' - dictate what happens in this state," Landwehr said.
Kansas Catholic Conference executive director Mike Farmer defended gay-marriage restrictions being a priority. With strong support from Catholics and evangelical Protestant churches, Kansas lawmakers approved a constitutional amendment banning gay marriage that drew overwhelming support from Kansas voters.
"There are a lot balls out there to keep an eye on," Farmer said. "We try not to lose sight of any of them."
Farmer, too, warned that school and Medicaid funding are on a collision course.
"Every year, there's talk of a possible train wreck within the budget," Farmer, a former Republican legislator from Wichita, said. "But there are several freight trains looking like they'll be coming together next year."
Still, Jones' comments struck a chord with Sharlan Graber, co-pastor for four small churches in northeastern Riley County.
"As a church, we've not been heard on these issues for far too long," she said.
Copyright 2018 The Lawrence Journal-World. All rights reserved. This material may not be published, broadcast, rewritten or redistributed. We strive to uphold our values for every story published.