Picking up trash isn't that tough.
That's why Oread Neighborhood resident Candice Davis said she thinks the city is being too lenient by giving people 15 days to pick up beer bottles, cups and other litter before being cited under the city's trash ordinance.
"Just bend over and pick it up," Davis said.
Some Oread neighbors are proposing the city change the code to require people with trash in their yard to get it picked up within 24 to 48 hours.
Davis and other Oread residents met with City Manager Mike Wildgen on Monday and told him the trash situation in the largely student neighborhood was becoming a real concern.
"Frankly, I think it is beginning to look like a ghetto," said Davis, who has lived in the neighborhood for seven years.
Carol von Tersch, who has lived in Oread 25 years, said the trash runs the gamut - from beer bottles and fast food wrappers to a car battery that has been in the front yard of a residence for months.
"What really bothers me is when I walk through a block and notice trash in the yard, and then a month later it is the same trash in the same yard," von Tersch said.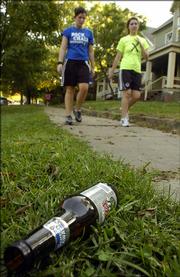 Oread residents said they believed some Kansas City metro communities have much stricter ordinances that make property owners or tenants clean up in no more than a day or two. Davis said she thought many residents didn't even bother reporting the trash problems to the Lawrence officials because they viewed the ordinance as cumbersome.
The ordinance gives a property owner or tenant 15 days to pick up the trash before the city hires crews to come onto the property and do it. If the trash is picked up in 15 days, no fine is given.
Wildgen said his office would be happy to explore changes to the code, but said there was a reason the city gave ample notice.
"Typically, we are very hesitant to go onto someone's private property without giving them good notice," Wildgen said.
Victor Torres, the city's director of neighborhood resources, said the current ordinance wasn't used much for situations involving beer bottles or other party trash. He said it was designed more to deal with property owners who have accumulated junk cars, old appliances and other large pieces of trash that create an environmental blight.
Torres said the city may want to meet with Overland Park officials about their ordinance that gives property owners just a few days to clean up trash.
Davis said she thought Oread was losing its battle against litter.
"It seems like it is getting worse," Davis said. "I wonder if we are losing some homeowners who have lived in the neighborhood. There's not as many homeowners on each block to set the tone."
Wildgen said staff members would be made available to speak to the neighborhoods, landlords and tenants about the city's current trash ordinance.
He also told neighbors the city can remove trash immediately if it is on the right-of-way - such as between the sidewalk and the street - instead of in a person's yard.
Copyright 2018 The Lawrence Journal-World. All rights reserved. This material may not be published, broadcast, rewritten or redistributed. We strive to uphold our values for every story published.