Chicago Crane High basketball coach Anthony Longstreet had a gut feeling his prize point guard was Kansas University-bound after watching the high school senior sign autographs for, and take pictures with, children after Friday's Late Night in the Phog.
"I'm pretty sure it softened him. I'd not seen him smile like that since we made the Elite Eight," Longstreet said Monday, referring to last year's Illinois prep state tournament.
Indeed, the 5-foot-11, 195-pound Collins, who told his coach he wanted to commit during last weekend's KU visit, pulled the trigger Sunday after "sleeping on it" and orally committed to Bill Self's Jayhawks over Illinois and Iowa.
Late Night was a big reason why.
"Obviously, he had a great time over the weekend. I think he was impressed with the production, so to speak, that was put on before the actual scrimmage," Longstreet said. "He was comfortable with the players.
"Julian (Wright) and Mario (Chalmers) did a great job. They all greeted him with open arms, especially Mario, who walked up to him and gave him a big half-hug. That was a big part of it. It all seemed like a family atmosphere."
The atmosphere on Collins' visit -- he arrived Friday and returned Saturday to Illinois -- was all it took for Collins to cancel this weekend's visit to Illinois and any future trek to Iowa.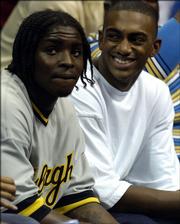 "I've never seen anything like it. I never knew people could be that crazy about a basketball team and its players," Collins told Chicago's Sun-Times. "Everybody from the coaches to the players and the fans went out of their way to make me feel important."
Collins is an important recruit. The football, basketball, baseball standout -- Longstreet said he could land a scholarship in any of the three sports -- is ranked the No. 2 point guard in the country by SI.com (Sports Illustrated) behind North Carolina signee Tywon Lawson.
He's rivals.com's No. 31-rated player, but Collins probably is underrated because he did not travel extensively to play ball in the summer months. He averaged 25 points, 10 assists and eight rebounds as a junior.
Collins, who has been compared to Illinois point guard Dee Brown, is expected to fit in well in the KU backcourt with Mario Chalmers in a setup much like Illinois ran last year with Brown and Deron Williams.
"I don't see it as a problem, rather as a plus, those two playing together. Great players want to play with great players," Longstreet said, adding, "coach Self is known for wanting to play three guards."
This marks the second straight year KU has plucked a player from Chicago from the University of Illinois' clutches. A key in making this happen this year was Self on Sept. 9, the first day coaches could hit the road recruiting, getting Collins to commit to attending KU's Late Night instead of Illinois' season-opening workout.
"I was trying to fill in some dates, and coach Self asked about a home visit and of course asked for midnight," Longstreet said. "When he asked, I filled it in. All along, Sherron knew a lot about Illinois, but not a lot about Kansas. He knew they had a lot of athletes that look good in transition. He's looking forward to playing wide-open transition ball in college.
"I mean, who could outsell Kansas?" Longstreet said. "Maybe Duke, North Carolina, Kentucky or programs like that, but coach Self definitely has a lot to sell."
Longstreet was asked if Self's invading Chicago for recruits was a touchy subject.
"It's touchy depending who you talk to in Illinois," Longstreet said. "I am still an Illinois guy. I've got nothing bad to say about Illinois, it's a great institution, but it's a situation the kid saw something he fell in love with. If you've got a girl you are halfway looking at and getting ready to date and see another girl a little different and she tickles your fancy, you might ask her out instead."
The Sherron Collins File
¢ Height: 5-foot-11 ¢ Weight: 195 pounds ¢ Hometown: Chicago ¢ Year: Senior ¢ School: Crane High ¢ Averages: 25 points, 10 assists, 8 rebounds ¢ Picked KU over: Illinois, Iowa ¢ How good is he?: No. 2-ranked point guard in nation by SI.com
Now that Collins has chosen a school -- he will sign a letter of intent the first week of November -- he'll continue to concentrate on becoming eligible. He'll take his ACT test this weekend.
"That's the other part of it. He has to focus on grades between now and graduation," Longstreet said.
¢ Arthur hasn't committed: Darrell Arthur, 6-9 from Dallas, who visited KU last weekend, said Monday he definitely would take his final two visits -- this weekend to SMU and, after that, Baylor. Texas remains a possibility. Arthur said KU and Indiana were his co-leaders, North Carolina now out of the running with the Heels out of scholarships.
¢ Buddy Bynum: Collins comes from the same school as Georgia Tech's Will Bynum. Collins has worked out with Bynum during summer months. "He's like a big teacher," Collins told illhoops.com. "He helps me as far as school work and telling me how important it is. He taught me to let the game come to me. I don't think what I'm going to do. It just comes. When the oohs and aahs come, my adrenalin gets going."
Praise for Collins' game
Sherron Collins, who is SportsIllustrated.com's No. 2-rated point guard in the country, averaged 25 points, 10 assists and eight rebounds last season for Chicago's Crane High in stats kept by Chicago's Sun Times. The 5-foot-11, 195-pound senior, who has committed to Kansas University, has acquired quite a following. Here are some comments about his game: "He is super-strong and quick, an incredible athlete, impossible to guard one-on-one. I've seen all the top 2006 point guards in the country, and without question Collins is the No. 1 class of 2006 point guard in the United States. While he has solid ball distribution skills, he has more of a scorer's mentality at this point in his career." - Ben Stinnett of chicagohoops.com "No one player in the entire country can stop Sherron Collins one-on-one, but a trio of colleges (KU, Illinois, Iowa) hope to slow him down and get him to commit to their program." - Scott Powers of illhoops.com "This point guard stole the show at the Nike All-America camp. When he went one-on-one with Tywon Lawson (North Carolina), he had the gym buzzing with his killer crossover and lightning-quick first step. He can do it all - pass, shoot, and he's quick and plays hard on defense." - Kevin Koleszar of basketballbeat.com "Sherron is a tenacious defender. He gets in your grill. He is a dual threat with the ability to score and run the team from the point-guard position. He is the real deal." - Shay Wildeboor, rivals.com
Copyright 2018 The Lawrence Journal-World. All rights reserved. This material may not be published, broadcast, rewritten or redistributed. We strive to uphold our values for every story published.