Five Lawrence businesses are winners in the Lawrence Chamber of Commerce's Excellence in Commerce awards program.
The third annual awards, presented Monday at the Lawrence Holidome, recognize winners and finalists for their business stability and growth, accomplishments within their industries, quality of life for employees and overall community involvement.
The program is designed to show the community's appreciation for existing businesses in town, said Shirley Martin-Smith, chamber chairwoman.
"Thank you for all the jobs you create," Martin-Smith said, addressing more than 160 people during a breakfast reception. "It is what makes Lawrence so unique and so special."
Here are the winners of this year's awards and finalists in each category, as selected by members of a chamber-appointed committee:
¢ Brown Cargo Van Inc., which makes dry-freight truck bodies, specialty trailers and other custom transportation equipment, won in the manufacturing/distribution category. During the past five years, the company has increased sales by 70 percent and its number of employees by 40 percent.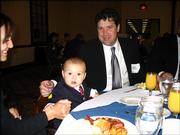 Other finalists in the manufacturing/distribution category were Allen Press Inc. and Sauer-Danfoss Co.
¢ Weavers Department Store, a downtown fixture on Massachusetts Street since 1857, won in the retail/hospitality category. Weavers recently added a department for gourmet home products, and expanded its section for special occasion dresses.
Other retail/hospitality finalists were Hy-Vee and McDonald's of Lawrence.
¢ Cottonwood Inc., a not-for-profit organization that provides services for people with developmental disabilities - including employment services, through job placements and manufacturing operations on site - won in the service category. Cottonwood recently secured renewal of its contract to make cargo straps for the Department of Defense.
Other service finalists were Charlton Manley Inc., Douglas County Bank and Lawrence Memorial Hospital.
¢ Jane Bateman the Interiors Store, which designs, produces and installs window coverings and other interior-decorating products, won in the small business category. The company, with six employees, has been in business for 28 years.
Other finalists in the small business category were Free State Credit Union and Natural Pet Food and Supply.
¢ Riverfront Chocolates, which produces and sells gourmet chocolates and other confectioneries in the lobby of the SpringHill Suites by Marriott hotel at Sixth and New Hampshire streets, won in the Bob Billings Rising Star category. The company recently added two employees and launched a Web site.
The Eldridge Hotel and Paradise Floors Inc. also were finalists in the category, which is reserved for businesses that are less than three years old and "demonstrate tremendous potential," Martin-Smith said. The Eldridge was eligible because it underwent a massive renovation and reopened under new ownership earlier this year.
There were 61 nominees for the awards. The chamber now will nominate the winners for state business appreciation awards. The state awards will be presented in June, which is Business Appreciation Month, by the Kansas Department of Commerce.
Copyright 2018 The Lawrence Journal-World. All rights reserved. This material may not be published, broadcast, rewritten or redistributed. We strive to uphold our values for every story published.