If Duane Akina and Gene Chizik show up a little bleary-eyed at Darrell K. Royal-Texas Memorial Stadium on Saturday, who could blame them?
Akina and Chizik are the co-defensive coordinators at Texas, and they'll be putting in a long and possibly sleepless week. Because next up for the second-ranked Longhorns are the two most frightening words a defensive coach in the Big 12 Conference can hear: Texas Tech.
While Texas' 42-17 dismantling of Colorado on Saturday might well be a preview of the conference championship game in December, the Longhorns must fend off the aerial wizardry of Tech's Cody Hodges before they can give any thought to playing for a title.
"Tech got my attention," Texas coach Mack Brown said.
And well the Red Raiders should.
All Hodges did in Tech's 59-20 rout of Kansas State was throw for 643 yards, the fourth-highest figure in Division I-A history, and five touchdowns. Four of his receivers piled up 100 yards catching passes, headed by Joel Filani, who had 10 receptions for a league-record 255 yards.
For the season, Hodges is averaging 410 yards per game and has thrown 22 touchdown passes. Those numbers aren't being wasted, either, because the Red Raiders moved up to No. 10 in the AP poll Sunday, and they have same record as Texas - 6-0 overall, 3-0 in the Big 12. The winner Saturday will be alone in first place in the South.
Yes, some of Tech's victories have come against less-than-stout competition, including Indiana State and Sam Houston State. But the Red Raiders won at Nebraska - the only game the Cornhuskers have lost - and they scored their eight touchdowns against Kansas State in a span of 26 minutes from late in the second quarter to midway though the fourth.
"We have worked really hard and as a team we have stayed really focused," Hodges said. "We have tried to not get caught up in too much hype or too much criticism for our schedule."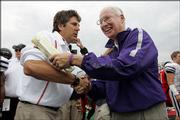 They could silence any remaining criticism by winning at Austin, though that will require a near-perfect effort on both sides of the ball because the Longhorns are rolling.
They've won 13 straight dating back to last season, including five against ranked opponents, and quarterback Vince Young has made himself a solid Heisman Trophy contender. Against Colorado, Young scored three touchdowns, passed for two and threw for a career-high 336 yards, completing 25 of 29 attempts.
Had not Southern Cal scored on the final play to beat Notre Dame, Texas would be sitting at No. 1. The Longhorns are off to their best start since going 11-0 in the 1983 regular season.
"I want to see us finish," Brown said. "I do think we are one of the best teams in the nation. I don't think there is any doubt about that, but I want to see us continue."
Even after getting hammered, Colorado (4-2, 2-1) still looks to be the team to beat in the North, though Nebraska (5-1, 2-1) no longer can be ignored.
Coach Bill Callahan's West Coast offense was supposed to cause all the stir in Lincoln, but the Cornhuskers are winning with defense. In their first road game of the season, a 23-14 victory at resurgent Baylor, the Huskers had four sacks and held the Bears to 51 yards rushing - minus 11 in the first half.
Nebraska has a game that could loom large in the North race next Saturday at Missouri (4-2, 2-1). Baylor, coming off its first-ever Big 12 road victory, is now 0-7 in its bid for consecutive conference wins.
"We think we should have won that game," Baylor safety Maurice Lane said.
Iowa State had been expected to give Colorado a run for the North title after sharing the crown with the Buffaloes last year, but the Cyclones (3-3, 0-3) are reeling. They lost at Nebraska in two overtimes, were beaten at home by Baylor and lost at Missouri 27-24 in overtime Saturday after leading 24-14 midway through the fourth quarter.
"We were just looking at each other like, 'Wow, did that really just happen?"' ISU running back Greg Coleman said.
Missouri showed in that game it could win without quarterback Brad Smith, who left in the fourth quarter after taking a hard shot to the head. Freshman Chase Daniel rallied the Tigers in his absence, but they need Smith to stay in contention. He's expected to return this week.
Copyright 2018 The Associated Press. All rights reserved. This material may not be published, broadcast, rewritten or redistributed. We strive to uphold our values for every story published.