Balakot, Pakistan — Pakistani officials predicted Sunday that many more thousands of dead would be found in earthquake-ravaged Kashmir as heavy rains in the Himalayan region drenched homeless survivors in mud and misery.
The latest estimate would raise the death toll from the magnitude-7.6 quake in the mountains of northern Pakistan and India to at least 54,000 - a jump of more than 13,000 from the official count of known dead.
A spokesman for the prime minister of the region warned that the cold and wet could cause further deaths among the 2 million or so people believed to be homeless.
About a fifth of the villages in the quake zone remained cut off eight days after the tremor turned villages scattered across lush mountainsides into death traps, and the bad weather over Kashmir halted aid flights by helicopters.
Government officials in Islamabad said early Sunday that 39,422 people were confirmed killed in all of Pakistan - at least 26,422 dead in the Pakistani portion of Kashmir and another 13,000 in North West Frontier Province.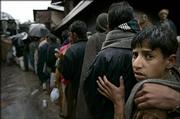 But later Sunday a spokesman for the state government chief in the Pakistani portion of Kashmir said the death toll in that region alone is believed to be "not less than 40,000." This would mean the quake killed more than 53,000 in all of Pakistan.
With another 1,350 deaths reported in India's part of Kashmir, that brings the quake's death toll to more than 54,000.
Abdul Khaliq Wasi, a spokesman for Kashmiri Prime Minister Sikandar 0Hayat Khan, stressed the 40,000 number for deaths in Pakistani-controlled Kashmir was only "a closest estimate" and did not reflect the number of bodies recovered.
A precise death toll will be difficult to determine, because many bodies are buried under collapsed buildings and landslides.
Torrential rain halted airborne relief efforts in Kashmir, where the Pakistani military said a relief helicopter crashed in bad weather late Saturday, killing all six soldiers aboard. The MI-17 transport craft was returning to base after flying relief workers to Bagh.
Copyright 2018 The Associated Press. All rights reserved. This material may not be published, broadcast, rewritten or redistributed. We strive to uphold our values for every story published.