An overcrowded building and preparing for the upcoming holiday season are two challenges facing the Salvation Army's new commanding officers in Lawrence.
Wesley and Susan Dalberg have taken over as administrators for the Salvation Army's local programs and church. The former leaders, Jim and Judy Forney, left late this summer after being transferred to positions in the Kansas City area.
The Dalbergs, with two of their five children, moved to the community two weeks ago.
"It's not an easy time to change positions. In the Salvation Army, job changes usually happen in June or July," Wesley Dalberg said. "It's probably one of the most difficult times because it is so busy at this point of the year."
He said a lot of work at this time is being done to prepare for the holiday season. The Salvation Army's local red kettle campaign has to be organized, he said, for a mid-November kickoff.
"So, we'll be working on getting the locations in place for the kettles and finding volunteers," he said.
Wesley Dalberg said volunteers also will be needed to help pack groceries and work in the organization's toy shop.
"We're going to need a lot of support from volunteers," he said.
Wesley Dalberg said he has been struck by the number of programs based out of the Salvation Army building, 946 N.H.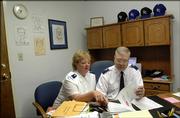 Constructed in 1957 as a church building, the Salvation Army location still is used for weekly worship. But it also is used for community meals three times a week, a homeless shelter, and Boy Scout and youth basketball programs.
"I'd say the biggest challenge in front of us is working on our capital campaign for a new building, but continuing to raise funds needed to continue to run the programs we have," Wesley Dalberg said.
The Salvation Army of Lawrence has been working to raise a minimum of $3.5 million for a new building to be located along Haskell Avenue between Lynn and Homewood streets.
"It's moving along fairly well," Joe Takacs, chairman of the local Salvation Army advisory board, said of the fundraising campaign.
Takacs said he's met the Dalbergs a couple of times and thinks the couple have the background to help meet the needs of the Lawrence community.
"They've done a lot with youth groups and they're outgoing," he said.
Wesley and Susan Dalberg both attended the Salvation Army School for Officers' Training in Atlanta. They were both ordained and commissioned as lieutenants in 1978. They have worked in Florida with youth and correctional service programs. Most recently, Wesley Dalberg served at the Salvation Army's 3 Trails Camp, formerly known as Camp MoKan, for the past four years. Susan Dalberg has been the business manager at the Salvation Army in Kansas City, Kan., and spent this past year as the special events director at the divisional headquarters in Kansas City, Mo.
Copyright 2018 The Lawrence Journal-World. All rights reserved. This material may not be published, broadcast, rewritten or redistributed. We strive to uphold our values for every story published.