The wide receivers weren't as sharp as they could be, and the running backs were unproductive in Kansas University's 19-3 football loss to Oklahoma on Saturday.
But that's pish-posh compared to what's really bugging this offense.
"My focus right now is primarily offensive-line play and quarterback," KU coach Mark Mangino said Sunday. "Those two areas have to improve and improve dramatically."
The quarterback situation has been documented, dissected, dug through and demolished coming up on 12 months now.
The offensive-line issue, however, is particularly intriguing because Mangino was happy with how that position graded out in KU's nonconference victories last month.
Asked if the play of the line had regressed, Mangino didn't disagree.
"I think that's a fair statement," he said. "They've stepped backwards."
The fourth-year coach wouldn't pin it on one aspect, though, saying schemes and personnel could play a part.
"It's a combination of things," Mangino said. "There's been missed assignments, and they've gotten beat - flat-out beat - on some plays. Too many plays."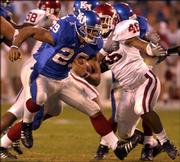 Personnel changes are possible, Mangino said, but he already has tinkered with the unit plenty since spring drills. David Ochoa moved from guard to center, tackles Matt Thompson and Cesar Rodriguez switched sides, and the starting right guard in the season opener - Jake Cox - doesn't start anymore. Travis Dambach slid into that spot.
The shuffling appeared to work initially. In three of KU's first four games, a KU running back had a 100-yard game, and the KU offense put up 30 points en route to a 3-0 start. In those games, the line obviously looked to be improved from the 2004 version.
But starting with the Kansas State game, Mangino said, the line's performance had stalled.
"We aren't doing a very good job, obviously," Thompson said after Saturday's game. "We're letting (QB) Brian (Luke) get pressured and not finishing blocks in the run game so that Jon (Cornish) or Clark (Green) get tackled well before they should. I don't know what else to say."
As for substitution possibilities, Mangino has mentioned the desire to play Anthony Collins more, but he does admit his options are limited for a variety of reasons.
Guard Todd Haselhorst, for example, is out for the season because of an injury.
"We have some guys that we're kind of grooming," Mangino said. "I don't want to say anything that I have to take back. But it's possible there could be personnel changes up front."
¢ No worries: Nick Reid's postgame comments further added to speculation that the defense was getting irritated by the offense's struggles.
"No, they're frustrated, but they're not irritated, and I'm not concerned about that at all," Mangino said. "We all ought to be irritated with the way we've played on offense."
¢ Whoops: Oklahoma's lone offensive touchdown came in the fourth quarter, when a lobbed pass up the left sideline was caught by Malcolm Kelly.
KU's Ronnie Amadi was the lone defensive back covering Kelly, but Amadi stopped marking Kelly around the five-yard line and instead turned around and looked back toward the middle of the field.
"I couldn't tell you what he did," Mangino said. "I watched it on tape and I have no idea."
¢ No QB decision yet: Mangino gave hints Saturday that Luke still was going to be his quarterback next week at Colorado, but he hasn't made a final decision yet.
"I'm trying to analyze everything and give it some thought," Mangino said. "We'd like for Brian to lead us and be the guy, but he certainly has to be more productive."
Copyright 2018 The Lawrence Journal-World. All rights reserved. This material may not be published, broadcast, rewritten or redistributed. We strive to uphold our values for every story published.