It's homecoming. The bands are rocking. Players are crashing helmets. Fans are hanging on to every play, hoping - for a couple hours, anyway - that their teams pull out a football victory.
And each time any of the more than 8,000 people jammed into the Shawnee Mission South District Stadium sneak a peek at the scoreboard just past the end zone, they can't miss it: a sign for Baker University, in all its cadmium-orange glory.
"Exposure is what we're hoping for, and we're certainly getting that," said Louise Cummings-Simmons, vice president of enrollment management and financial aid for the Baldwin school, where one in five students is from Johnson County. "The philosophy is: The more times you can put your name out in front of people, it's going to be easier for them to think, 'Maybe I should go check out that school.'
"It's an awesome opportunity. It's an awesome opportunity for us."
The sign - one of four advertising placards new to the stadium this season - is the product of a first-time marketing drive envisioned and established by Star Signs & Graphics Inc.
The Lawrence-based company this year created a new division to handle all marketing, sales, fabrication and installation for advertising signs at clients' athletics venues.
While industry heavyweights long have focused on the top sports leagues and programs - ESPN Regional, for example, handles all signage for Memorial Stadium and Allen Fieldhouse at Kansas University - Star Signs is focusing on recruiting and signing some lesser-known players.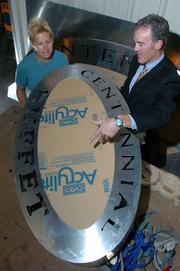 Small universities, community colleges and public school districts are the prospective client roster for Mike Vickers and Shelley Rosdahl, who formed the division earlier this year to generate steady business to offset the ups and downs of the traditional sign market. They're already in talks with a handful of districts, NAIA and NCAA Division II schools and even a handful of Division I-level events, such as KU's Kansas Relays.
First recruit signed
The division's first signee is the Shawnee Mission school district, which approved a contract in January to give Star Signs exclusive rights to negotiate and create advertising placements at the district's high school athletics venues: a football stadium, five gymnasiums, five pools, two soccer fields and assorted sites.
And while the current signage has been relatively limited - there are four signs, for example, at the football stadium - Vickers knows it won't be long before the program takes off.
"We figure that over 1 million people go through those facilities a year - conservatively - and those facilities get used for everything," said Vickers, president of Star Signs. "It's a great opportunity."
This year, Vickers said, signage at the football stadium could generate $50,000 in revenue, which then would be divided between the company and the district.
"The overall income could be near a million dollars in five years," he said. "Down the road, over half of that, annually, would go to the school district."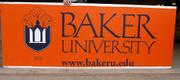 Such talk brings a smile to Rusty Newman's face.
Newman, director of student services and athletics for Shawnee Mission public schools, said that he would welcome any money generated through the deal. The district previously had frowned upon displaying commercial signs at its athletics venues, except under special circumstances: Hy-Vee could put up a temporary banner as it provided a hospitality tent at a football game, for example.
Now Vickers is even talking about finding a naming sponsor for the district's new football stadium, designed by HOK Design Sport and under construction at Shawnee Mission North High School.
"It's a sign of the times," Newman said of the arrangement with Star Signs. "It's an opportunity to generate revenue for our school district. As long as it's done in a first-class manner, and that's not obstructing anyone or offensive to anyone, I think it will be a great program."
Looking for money
Ron Commons, athletic director for Lawrence High School, said he would be following Shawnee Mission's progress. He could use the money.
Nearly 1,000 students each year compete on 22 varsity teams and 31 junior varsity and "C" squads. The sports' uniforms, equipment and other services - not including transportation or staff salaries - are financed through a $120,000 budget, of which only $32,000 comes directly from the Lawrence school district.
Commons said that some of his fellow athletic directors in other states couldn't do without the extra income generated from advertising, and he admits to being a little envious.
"Anything we can do to generate some revenue to help offset costs to run our athletic programs would be greatly appreciated," Commons said.
Gary Musselman, executive director of the Kansas State High School Activities Assn., said he would expect more districts to pursue advertising programs in the years ahead, as financial pressures mount. The Topeka school district already has made inroads in such sponsorships; the district's new pool got its name - the Capitol Federal Natatorium - after the Topeka-based financial company donated money to help defray costs for construction and upkeep.
"As dollars become more scarce, and the competition increases for the available dollars in the school's budgets - there's more things to do and more programs to finance - schools are constantly turning over every stone looking for help," Musselman said. "This may help."
Expanding employee roster
At Star Signs, Vickers and Rosdahl are counting on their new division to help keep their larger Lawrence operation humming. The company is busy making signs for casinos, shopping centers, parking garages and other large projects, but they know that such activity can be fleeting, based on the economy's shifting winds.
Star Signs, with 50 employees overall, thus far has added one sales employee to work on the athletics-advertising program and has plans for hiring another, Vickers said. More could be on the way, should the program expand into major markets such as Chicago, Dallas and elsewhere.
"The whole deal is driven by the fact that schools - particularly high schools - and smaller colleges don't have the money right now for their athletics programs," Vickers said. "This is really a revenue generator for those schools. We just happen to be in a position to make proposals to manage their entire systems."
Back at Baker, Cummings-Simmons is anxious to see whether the new sign at the Shawnee Mission football stadium pays off. Of the 239 first-time freshmen who enrolled this fall at the Baldwin campus, 56 came from Johnson County.
Agreeing to sign on as an advertising sponsor through Star Signs - alongside Avila University, CommunityAmerica Credit Union and Shawnee Mission Medical Center - simply made sense.
"It's an investment," she said.
Copyright 2018 The Lawrence Journal-World. All rights reserved. This material may not be published, broadcast, rewritten or redistributed. We strive to uphold our values for every story published.