Photo Gallery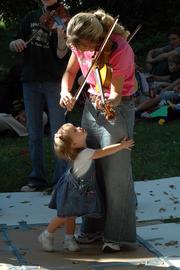 2005 Maple Leaf Festival
The 48th Annual Maple Leaf Festival in Baldwin is in full swing, and folks from miles around have come to the rural Douglas County community in search of arts and crafts, music and kettle corn. The festival features food vendors, crafts and a parade, and continues today.
"There's a lot of tradition involved with the festival," said Nancy Crisp, chairwoman of the Maple Leaf Festival. "The people who started this 48 years ago had an idea of celebrating the community, like a lot of small towns. This is a celebration of the history and the community of Baldwin, and we really try to bring out those themes."
Copyright 2018 The Lawrence Journal-World. All rights reserved. This material may not be published, broadcast, rewritten or redistributed. We strive to uphold our values for every story published.