Kayla Williams likes listening to the Dead Kennedys, Concrete Blonde and the Beastie Boys. She also likes holding a gun in her hands.
In her new memoir, "Love My Rifle More Than You," the 28-year-old music lover and former U.S. Army sergeant takes aim at the realities of being a young woman U.S. Army soldier in Iraq.
Trained in Arabic and military intelligence, Williams served as a linguist in the Army's 101st Airborne Division. She hung up her camo in June and recently married a soldier she met in Iraq. She says her husband's treatment after taking shrapnel in the head during a convoy attack has left her feeling disillusioned about health care in the military.
Over a cup of hot java - Williams often survived cold Iraqi nights on a mixture of cocoa powder and lukewarm water - asap asked the first-time author about everything from her wartime frustrations to what happens when Aunt Flo visits the Mideast.
Q: Did you keep a journal while you were in Iraq? When did you decide to write this book?
A: I did keep an extensive journal. I didn't set out to write the book before I went to war, but my college thesis adviser, who's one of the people I stayed in contact with when I first got back, actually said, "What do you think about writing a book right now?" I wanted to do it now as opposed to later so there would be a sense of immediacy. This stuff is happening.
Q: Did you have to get permission from the Army?
A: I did. Because I was military intelligence and I had top-secret clearance, it had to be vetted by the Army, which I was more than happy to do because I didn't want to inadvertently give away any classified information.
Q: What frustrated you the most about other women in the Army?
A: Anytime a woman would cry or break down in front of other soldiers would frustrate me. I just felt like that reflected badly on all female soldiers. Men would break down, too. They couldn't handle it just the same as women. They'd freak out, couldn't cope. They'd say they were gay or hurt or whatever to get out of deployment. When that would happen, nobody ever said he couldn't handle it because he was a man. When a woman breaks down, it's because she's a woman.
Q: What do you do about, you know, that time of the month?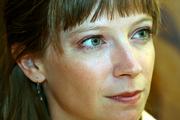 A: It's just one of those things. I would use birth control to control my cycle. I would try to time it so it would happen when I would be somewhere with a shower.
Q: What do you think about the distinctions the Army makes between female and male soldiers?
A: There's a big gap in the PT (physical training) requirements. ... In my unit, there was this one girl who was so tiny. I mean, there were guys who were pretty tiny, as well. I think everyone should be required to be able to carry another soldier to safety. It would be difficult, but I could carry a 200-pound man to safety. It might take me longer than, say, another 200-pound man, but I could do it. Just like overweight people get kicked out, I think if people are too skinny they should be kicked out.
Q: What was bad about being in the Army?
A: Just generally, the lack of a plan. Before we received our deployment orders, nobody knew what was going on. Once we got over there, it wasn't much better. I ended up spending over $300 of my own money on stuff I had to have.
Q: How did the Army change you?
A: It gave me confidence. I don't seek validation like so many women in our country do. I don't speak with an up-note anymore. You know, "Hi, my name's Kaylahhh."
Copyright 2018 The Lawrence Journal-World. All rights reserved. This material may not be published, broadcast, rewritten or redistributed. We strive to uphold our values for every story published.