A state health inspection of a Brookcreek Learning Center day care site has turned up violations, prompting a $2,000 fine and putting the facility's license in jeopardy.
The Kansas Department of Health and Environment has issued notice it intends to suspend the Brookcreek Learning Center's child care license.
"What this means is there have been violations found in the past and again in a more recent inspection that haven't been addressed and must be. Otherwise, we will proceed with suspending the license," said KDHE spokeswoman Sharon Watson.
The Brookcreek Learning Center is a nonprofit organization that works to educate and care for disadvantaged children. It has three locations in Lawrence, but the only one that was cited is at 2017 La., on the grounds of Lawrence High School.
The facility was cited for having too few staff members, lack of cleanliness, not meeting regulations for hiring staff and not verifying immunization records. The facility was investigated in late August after a complaint from the public.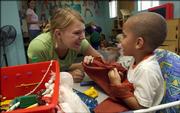 Brookcreek officials are appealing KDHE's findings, and a hearing will be scheduled in the upcoming weeks. As a result of the appeal, the facility can remain open. But Brookcreek Learning Center executive director Esther Kottwitz said the facility has been closed until maintenance and staffing issues are addressed.
Children who attend the center temporarily have been relocated to one of the other Brookcreek sites, which are at 1600 Haskell Ave. and 200 Mount Hope Court.
"We're doing everything we can to get things right," Kottwitz said.
She said new carpet would replace mildewed carpet cited in the investigation. The matter of staffing has been corrected, she said, declining to elaborate on what action had been taken.
Brookcreek received its license for the LHS facility on Jan. 18, 2004, and can accept up to 18 children. Brookcreek Learning Center has had its license to care for 30 children at its Haskell facility since March 1991. The Mount Hope Court site has been licensed since 1994 for up to 45 children.
All three facilities in the past few months have had inspections as the result of complaints. The Mount Hope Court site was inspected earlier this month. The facility on Haskell was inspected in September and October, and the LHS site had another inspection earlier this month.
"Those inspections are still under review," Watson said.
She said it was not known when the reviews would be complete.
Copyright 2018 The Lawrence Journal-World. All rights reserved. This material may not be published, broadcast, rewritten or redistributed. We strive to uphold our values for every story published.