Washington — Hurricane Katrina has spawned a second big flood that is surging well beyond the Gulf Coast: thousands of cases and complaints alleging fraud.
Seven weeks after the storm roared ashore, authorities around the country are amassing cases ranging from identity theft to scams by phony construction contractors to hotel price gouging.
In Louisiana, dozens of victims have applied for benefits from the Federal Emergency Management Agency, only to find their personal identification information has been stolen and already used. In Texas, authorities say people falsely claiming to be evacuees collected hundreds of dollars in emergency aid - sometimes going back two or three times each day.
And in Mississippi, authorities are on the lookout for a woman who was charging victims $50 to use her "super-duper FEMA phone" - which she said would let frustrated callers bypass busy signals on a direct hot line to the relief agency.
Photo Gallery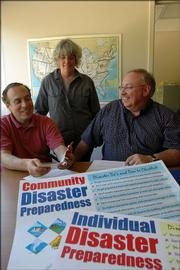 Hurricane Katrina
"There are some real oddball cases," said Mississippi Assistant Atty. Gen. Grant Hedgepeth, who leads the state's consumer protection office. Mississippi investigators have received more than 1,000 complaints - about hotel and gas price gouging, phony insurance adjuster scams, people posing as FEMA workers to collect victims' personal information.
The Red Cross is investigating more than 500 fraud cases, said spokeswoman Devorah Goldburg. And as of Thursday, the Justice Department had charged 34 people with various fraud crimes stemming from Katrina and Hurricane Rita.
An estimated 1.5 million people evacuated their homes in Louisiana, Mississippi and Alabama when Katrina hit the coast Aug. 29. Congress has approved $62 billion in disaster relief aid.
The big payout, combined with the scattering of victims to nearly every state, created the potential for rampant fraud in Katrina's aftermath, said Jeannette M. Adkins, executive director of the National Organization of Victim Assistance.
Scam artists "can show up to disaster relief centers in almost every state and present themselves as victims and have nothing to show for it," Adkins said. "And people are handing out the money."
Copyright 2018 The Associated Press. All rights reserved. This material may not be published, broadcast, rewritten or redistributed. We strive to uphold our values for every story published.