New York — Children have wonderful, wild imaginations. They can envision Halloween costumes that are complicated and fanciful - and beyond the sewing capabilities of most parents. Or maybe not.
The October issue of Nick Jr. Family Magazine offers several costume ideas that require minimal to moderate craft skills and can be easily adapted to different sizes. Some styles, including the space alien and angel, can even be adjusted to fit the family pooch.
"There are so many emotional, social and developmental benefits making your own costume. It's much more of a memory maker," says Freddi Greenberg, editor in chief of Nick Jr.
When parents and children team up to create a one-of-a-kind outfit, the sky's the limit, she says. Plus, it's a unique opportunity for some one-on-one time because they're working for a common goal - and it's all being done in the spirit of fun.
Step one is for parents to get out of their heads that they need to know how to sew, Greenberg advises. "All you need is a glue gun."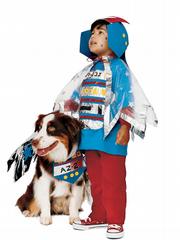 Next is to realize that the costume doesn't have to be classically "perfect." A slightly askew costume has personality, she says.
Costumes, whether homemade or store-bought, can have a long life after Halloween, especially if the family has a dress-up box.
"Kids need a dress-up trunk. It's a creative and valuable learning tool," Greenberg says.
Space alien
Materials:
¢ Clear plastic tablecloth
¢ 1/2 yard 1-inch-wide ribbon, cut in half
¢ 1-inch-wide metal repair tape (found at hardware stores)
¢ Assorted colored duct tape
¢ Blue shirt
¢ Red pants
¢ Plastic toy helmet
¢ Silver spray paint
¢ 2 sheets each of blue, white and red craft foam
¢ Hot-glue gun or craft glue
Directions:
¢ Cut tablecloth to appropriate size circle for your child. Cut from edge to center and make a neck hole. Tape ribbon ties on both sides of neck opening. Cut zigzag edges around the bottom.
¢ Edge cape with repair tape.
¢ Cut duct tape into assorted shapes and decorate shapes and cape.
¢ Spray helmet silver. When dry, cut out craft-foam shapes and glue to helmet.
Adapt for a dog:
Cut the tablecloth into a wedge shape to fit over the dog's back. Cut off the top point so that it circles half of the dog's neck. Tape ribbons to the side of neck. Cut craft foam to make a "vest." The bottom should fall above dog's knees. Decorate vest with duct-tape shapes. Glue to collar or attach ribbons and tie.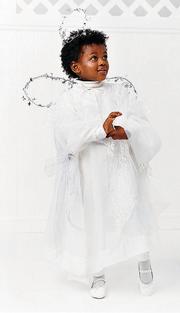 Angel
Materials:
¢ Sheer full-length (84 inches) curtain panel
¢ 2 yards 2-inch-wide silver chiffon ribbon
¢ 1 1/2 yards lace fabric
¢ 1 package silver pipe cleaners
¢ 1 package white pipe cleaners
¢ Hot-glue gun
¢ Silver star garland
Directions:
¢ Cut curtain to width of child's arms. Fold in half lengthwise and cut to length of child's shoulder to ankle. Cut a hole for neck. Cut 8 inches down back. Fit tunic over child's head with opening in back.
¢ With tunic on child, gather fabric under each arm between armhole and waist; cut a slit through both layers of fabric. Tie a ribbon through the slit to make sleeves.
¢ Cut a circle from lace to make a cape the width of child's arms. Fold in half, cut a hole for the head and a slit down the back. Lay folded, front-side-up, on a flat surface. Cut into a teardrop shape, wider at the top and pointed at the bottom.
¢ Twist ends of 6-8 pipe cleaners together and shape into "wings." Wrap garland around pipe cleaners. Glue to back and shoulders of costume. Wrap garland around child's head and shape into a halo.
Adapt for a dog:
Cut two wing shapes from white craft foam. Decorate with silver glitter paint. Glue to dog's collar. Circle collar with a star garland. Attach a silver pipe-cleaner halo to collar.
Copyright 2018 The Associated Press. All rights reserved. This material may not be published, broadcast, rewritten or redistributed. We strive to uphold our values for every story published.