Norman, Okla. — Oklahoma coach Bob Stoops admits he didn't see it coming. After back-to-back runs to the BCS title game, the Sooners have as many losses in their past five games as they did in the previous two seasons combined.
At a school that didn't have a losing record at any point in Stoops' first six seasons, it was difficult to see hard times on the horizon. But after a 45-12 loss Saturday to Texas, the Sooners are 2-3 and without control of the Big 12 South race for the first time since Oklahoma State knocked them out of the conference championship game in 2001.
"Nobody promises you anything," Stoops said Tuesday. "We've had a lot to deal with when you look at the entire season and all that's happened in a short amount of time. You do the best you can to fight through it and you keep working."
Injuries and youth have been a factor in the Sooners' downfall. Stoops said tailback Adrian Peterson, the Heisman Trophy runner-up last season, was probable for Saturday's game against Kansas University at Arrowhead Stadium in Kansas City, Mo. He had only three carries for 10 yards against Texas and missed practice again Monday.
"It'll be probably a day-to-day thing this week on how much he gets and when he practices. He is further along than he was going into the game last week, so that's encouraging," Stoops said. "All of the X-rays and MRIs have ruled out anything major. All that our doctors can decipher from it is it's a mild high ankle sprain."
Travis Wilson, the team's top returning receiver, also was probable, and cornerback Eric Bassey was questionable, Stoops said.
They're only the latest in a string of injuries for Oklahoma starters. Defensive ends Larry Birdine (biceps) and John Williams (knee) are lost for the season, center Chris Chester (knee) could be out for a few more weeks, and cornerback Marcus Walker (shoulder) is getting closer to making a return. Stoops said it was the most injuries he'd had to deal with in his coaching career.
"I didn't anticipate all that's happened and who we've missed," Stoops said. "Again, I'm not making excuses. What I'm saying is I didn't anticipate all that. You play the hand you're dealt.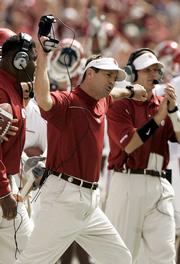 "But I feel overall that coming into the year that we would have been stronger and better than we have been. You can name a bunch of reasons why we haven't been. Blame it on me. That's fine."
Stoops said there were plenty of ways fingers could be pointed, including at himself and his assistants.
"We have not been good. The players haven't been good. You can say whatever you want. I have done a lousy job," Stoops said.
Players have been able to maintain confidence, though, because of the Sooners' success in recent years, Stoops said.
Despite the lopsided score, Stoops said he was mostly pleased with his defense's performance against Texas. He also saw bright spots in the Sooners' rushing game without Peterson, but said the large deficit required the team to pass more.
Altogether, he said the team just needed to execute better.
"We need to do our best to be as sharp as we can. I think that's the frustrating part for us," Stoops said.
Copyright 2018 The Associated Press. All rights reserved. This material may not be published, broadcast, rewritten or redistributed. We strive to uphold our values for every story published.