The 10U Silver Strikers and the Blue Devils squared off for the second time this season on Saturday at Youth Sports Inc. The game went similarly to the first meeting, but ended with a different outcome.
Both teams established their defenses early and bent but didn't break throughout much of the game. The Devils bent a little bit too much before halftime when the Strikers slipped a goal into the back of the net and went on to defeat the Devils, 1-0.
"We played strong defensively and stayed focused throughout the game," Silver Striker coach Kelly Ryan said after the victory.
The Strikers were out for revenge after losing to the Devils 1-0 in their first meeting, and Trevor Dent had an early opportunity to take the lead, but the defense of the Devils held strong and goalie Rosemary Newsome blocked the shot.
Later an offside penalty negated a Striker goal and led to a Devil drive downfield. Jenna Geihl had an opportunity to put the ball into the net, but the shot went wide right.
Dent had another opportunity to put a point on the scoreboard on the opposite side, but the kick was a bit high and hit the top post of the goal.
Again the ball went downfield the other way and the Blue Devils demonstrated good passing around the goal. Sami Buffalomeat took a strong kick at the ball, but Striker Garrett Frank made a great stop and kept the score knotted at zero.
Just before the half the Silver Strikers worked the ball into their zone, and Dent finally found the back of the goal to give his team a 1-0 lead.
The second half went back and forth between both sides with the defenses of both teams holding strong. For the Strikers, goalie Jordan Coleman held strong, made a great save and didn't allow the Devils to put one in the net. On the other end of the field, Devil Hanna Heline kept the win within reach for her team by not allowing another goal to be scored.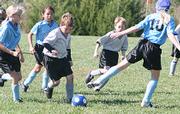 When time expired, the Silver Strikers' one goal proved to be enough to record the win.
"Our defense helped us win the game today," coach Ryan said after his team shut out the Blue Devils.
Despite the loss, the Blue Devils were pleased with their performance.
"This is a great group of girls who really understand the game," Blue Devil coach Bill Newsome said positively after the loss. "They understand how to play as a team, and that is important in developing their game and being successful."
With the Silver Strikers victory, the two teams even their series this season at one victory apiece.
Copyright 2018 The Lawrence Journal-World. All rights reserved. This material may not be published, broadcast, rewritten or redistributed. We strive to uphold our values for every story published.