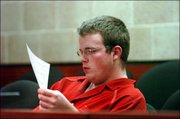 The Douglas County District Attorney's office today filed murder and arson charges against Jason Allen Rose, the 20-year-old man accused of starting Friday's deadly fire at Boardwalk Apartments.
As expected, Rose faces three counts of felony murder and one count of aggravated arson in the fire in the 500 block of Fireside Drive.
Dist. Atty. Charles Branson said his office would ask that Rose's bail be set at $500,000 during today's first court hearing at 3:30 p.m.
Rose will be arraigned today from the Douglas County Jail before Pro-tem Judge Peggy Kittle.
Rose is being held in connection with the fire, which killed three people and destroyed 76 apartment units.
The coroner's office has confirmed that two of the victims were Nicole Bingham, a Kansas University senior from Wichita, and Yolanda Riddle, a social worker.
Those two people and a third victim, Jose Gonzalez, 50, an electrician at Quality Electric Inc., were identified earlier this week by family and friends.
Boardwalk Apartments Fire
More on the Boardwalk Apartments Fire
Copyright 2018 The Lawrence Journal-World. All rights reserved. This material may not be published, broadcast, rewritten or redistributed. We strive to uphold our values for every story published.