Lawrence is the unchallenged front-runner for landing a national cross country competition that could bring 10,000 people to town in 2007.
The National Junior Olympic Cross Country Championships are in line to be conducted Dec. 1, 2007, at Rim Rock Farm, a 100-acre site north of Lawrence in rural Jefferson County. Rim Rock was established by Bob Timmons, former Kansas University track coach.
The Saturday event will be expected to fill every hotel in Lawrence and spill over into rooms as far as Kansas City International Airport, said Bob Sanner, director of conventions and sports marketing for the Lawrence Convention & Visitors Bureau.
While officials haven't yet calculated the economic effects such an event could generate, Sanner figures it easily could approach the $1.8 million recorded by July's American Fastpitch Assn.'s national softball tournament in Lawrence.
Or more. Organizers are telling officials to expect at least 2,500 athletes - ranging in age from 9 to 18 - along with thousands of parents, grandparents, friends and other family members who typically show up days early, with plenty of money to spend.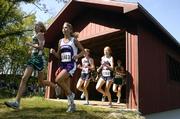 "When they roll into town, with Christmas three weeks away, they are thinking about shopping and picking up things," Sanner said. "It should be very impressive."
Lawrence's bid for the event is being reviewed by USA Track & Field, the event's organizer, whose delegates are scheduled to select their 2007 site during an annual meeting Dec. 2.
In preparation for the vote, the organization sent a team of on-site evaluators to Lawrence this week to check out the community and its restaurants, hotels, potential meeting spaces and - Tuesday afternoon - the course itself.
The team's consensus: Lawrence can't lose.
"Since there's nothing negative that we've found, our report will be very favorable," said Bob Flint, past youth chairman for USA Track & Field and member of the evaluation team. "It's kind of a formality for the vote to take place."
Key to the selection: Rim Rock itself.
"The site looks outstanding," he said. "It's definitely one of the best - and it probably is the best - that I've ever seen in 20 years. :
"Actually, when I heard the word `Rim Rock Farm,' I was a little concerned. As I flew in from Phoenix, I was thinking, 'Gee, we're going up to this farm, and it's going to stink and there's going to be cows everywhere and horses and chickens and stuff.'
"And when I got out there, I was pleasantly surprised. Actually, to me, I would call it Rim Rock Park. It's just a beautiful facility. It's well marked. They've done an incredible job. We could run the meet there tomorrow if we had to, and that's very unusual."
Rim Rock, with room for an estimated 2,000 cars, has accommodated big races before. In 1998, the NCAA conducted its Division I and Division II championships at the site, and the former Big Eight Conference had its conference championships at the farm in 1983, 1991 and 1995. KU teams have called Rim Rock home since 1974, and dozens of high school races - including state championships - have used the rolling terrain.
Timmons and his wife, Pat, announced in April that they had donated the farm's 100 acres to the Kansas University Endowment Association, which in turn would lease the property to KU. The site, which features seven ponds and two covered bridges, can be configured into eight different courses.
The National Junior Olympic Cross Country Championships will have 10 races for runners who have qualified through state and regional events in five age groups: 10 and under, 11-12, 13-14, 15-16 and 17-18.
This year's championships are being run in Smithfield, R.I.
Copyright 2018 The Lawrence Journal-World. All rights reserved. This material may not be published, broadcast, rewritten or redistributed. We strive to uphold our values for every story published.