The fourth- and fifth-grade Hurricanes and Cougars played a tough game that wasn't decided until late in the second half Sunday.
But in the end, it was the Hurricanes who emerged victorious with an 18-6 victory at Youth Sports Inc.
"It was just a well-fought game, and it's just great to see fourth- and fifth-graders come out here and fight that hard all the way until the end," Hurricanes coach Keith Loneker said.
The Hurricanes defense started the game fast, holding the Cougars offense to just three plays on their first drive.
Then the Hurricanes' offense struck.
Quarterback Kyle McFarland called his own number on a keeper and ran 20 yards for the game's first touchdown.
The Cougars' Trenton Clark tackled Joe Dineen on the extra point attempt to keep the score 6-0.
On the Hurricanes' next possession, McFarland came up big again.
This time on fourth down and inches, McFarland called his own number again and picked up two yards to keep the drive going.
McFarland's first-down sneak set up a 30-yard touchdown run by Hurricane Driscoll Johnson with 2:22 left in the first half.
But only 27 seconds later the Cougars pounced on a scoring opportunity with a 55-yard run to cut the lead to 12-6.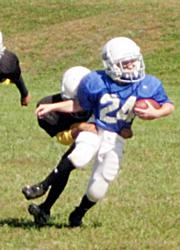 The Hurricanes tried to get a quick score of their own before the end of the half.
Running back Stan Skwarlo gained 35 yards to move to the ball to the Cougars' 22-yard line with only 10 seconds remaining.
On the next play, Skwarlo got the call again and ran to the Cougars nine-yard line with one second remaining.
The Hurricanes used their final timeout to set up one last run by Skwarlo, but he was quickly wrapped up by the Cougars' defense to end the half.
Skwarlo, who carried the ball on seven consecutive plays to eat away much of the third-quarter clock, found the end zone on a 35-yard gallop for the Hurricanes' third touchdown of the game.
The Cougars tried to put together successful drives during the fourth quarter but came up empty handed. Then the final blow came when Hurricanes punter Saxon Seaburg nailed a 55-yard punt that pinned the Cougars on their own 25-yard line.
Copyright 2018 The Lawrence Journal-World. All rights reserved. This material may not be published, broadcast, rewritten or redistributed. We strive to uphold our values for every story published.