The undefeated Howling Coyotes continued their winning streak Saturday with their fifth win of the season.
The U10 Division 2 Club Howling Coyotes defeated the Green Dragons 3-0 at Youth Sports Inc.
Howling Coyotes head coach Darron Ammann said the team's practice paid off in this game.
"We did things in this game that we've worked on in practices all year long," Ammann said. "We've worked a lot on passing, but we also showed good teamwork and sportsmanship all game."
The game started with slow action between evenly matched teams. Howling Coyotes forward Dakota Rector ended the deadlock with a goal inside the 18-yard box. The Howling Coyotes held tough the remainder of the half by not allowing any shots from the Green Dragons.
The rest of the game wasn't the same. Even with a 3-0 shutout as the final, the score doesn't reflect the chances the Green Dragons had in the second half.
After a foul inside the penalty box by the Howling Coyotes, the Green Dragons had their best scoring opportunity of the game with a penalty kick. Forward Mikey Corbett was called upon to take the free kick.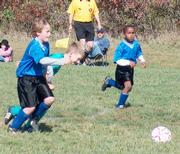 Corbett's shot squeaked past the goalkeeper's right side, but smacked into the goalpost and back onto the playing field. The Howling Coyotes were then able to clear the ball out of the zone.
The Howling Coyotes' offense took off after the penalty kick with the second goal by Rector. Forward Ernesto Hodison II capped off the scoring attack with a tap in just inside the goal box.
The Green Dragons were given another scoring opportunity with a second penalty inside the 18-yard box. This time the Green Dragons called on Joe Otto to take the penalty kick. Otto blasted the ball over the goalie's head, but it dinged off the crossbar.
The Howling Coyotes were unable to clear the ball, which bounced right back to Otto's right foot. Otto loaded up a big kick, but drove the ball too hard. It sailed over the goal, resulting in a Howling Coyotes goal kick.
The second penalty kick ended up being the final scoring chance for the Green Dragons.
The only concern for Ammann after the shutout victory was with throw-ins.
"We had play stopped to change possession four times because of illegal throws," Ammann said. "They were just simple mistakes that were made in the flow of the game, but things like that happen."
If the Howling Coyotes improve their throw-ins and continue to get help from the goalpost and crossbar, their winning streak could continue for a while.
Copyright 2018 The Lawrence Journal-World. All rights reserved. This material may not be published, broadcast, rewritten or redistributed. We strive to uphold our values for every story published.