Santiago Atitlan, Guatemala — Authorities abandoned efforts Tuesday to recover bodies from a deadly landslide and turned to international agencies to help feed, clothe and treat the tens of thousands of residents who lost everything in a week of deadly rains and floods.
President Oscar Berger and 1992 Nobel Peace Prize winner Rigoberta Menchu arrived in this hard-hit town by helicopter to the cheers of hundreds of people who swarmed Santiago Atitlan's town square, a stone courtyard fronting a 17th-century church.
"We came to share the pain of all the people who lost loved ones," Berger said after hugging the town's mayor.
Also Tuesday, Guatemalan officials raised the number of missing people to 577 from 384, while the death toll remained at 652. Another 133 people have died in El Salvador, Mexico, Costa Rica, Nicaragua and Honduras due to the heavy rains, partly spawned by Hurricane Stan.
Officials concerned about the possible outbreak of disease set up a perimeter around the site of a half-mile-wide and 15- to 20-foot-deep mudslide that buried the nearby community of Panabaj.
Berger later hiked through the mudslide, which he said killed 400 people in Panabaj and another nearby hamlet. He said Panabaj would be abandoned forever, and land would be provided for villagers to relocate elsewhere.
Santiago Atitlan Mayor Diego Esquina said corpses were decomposing rapidly and the hillside under which they lay was still highly unstable, making further rescue efforts too risky. Residents had been digging for possible survivors with their hands and whatever tools they could find.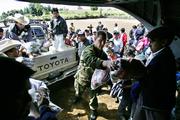 Berger later declared the area a high-risk zone.
Some 107,000 Guatemalans were staying in shelters after their homes were damaged or destroyed. Some outlying communities remained blocked from outside help, Guatemalan Agriculture Minister Alvaro Aguilar said.
The government Monday night issued an urgent call to the United Nations, seeking $21.5 million in aid because its own emergency response funds would not be enough to cope with the crisis.
Several countries already have offered to provide assistance to Guatemala.
The United States has delivered 5,000 hygiene kits, 5,000 blankets, 15,000 gallons of drinking water and 11,000 gallons of fuel to victims in Guatemala, officials said. U.S. helicopters shuttled food and water to isolated villages.
The U.S. also was offering aid to El Salvador, Costa Rica and Mexico.
Copyright 2018 The Associated Press. All rights reserved. This material may not be published, broadcast, rewritten or redistributed. We strive to uphold our values for every story published.