Muzaffarabad, Pakistan — Heavy rain and hail grounded helicopters and stopped trucks loaded with relief supplies Tuesday, imposing more misery on hungry, shivering earthquake survivors as the United Nations warned of potentially lethal outbreaks of measles, cholera and diarrhea.
Dazed, desperate villagers fought over food packages and looted trucks as the first aid reached this devastated city in the mountains of Kashmir. The Himalayan region was hardest-hit by Saturday's magnitude-7.6 quake.
The Pakistani government said the death toll from Pakistan's worst quake was about 23,000, but a senior army official involved in the rescue operations and local officials said estimates surpassed 35,000, with many bodies still buried beneath piles of concrete, steel and wood. Millions were left homeless after whole communities were flattened in the region touching Pakistan, India and Afghanistan.
Survivors still being found
Three days after the quake, survivors still were being pulled from the rubble of pancaked schools and houses by British, German, French and Chinese rescue teams. A Red Cross official said people could survive under the rubble up to five or even seven days.
A 75-year-old woman and her 57-year-old daughter were rescued after 80 hours in the ruins of an Islamabad apartment tower, and a teenage boy was freed in the northern town of Balakot.
"He's alive!" rescuers shouted with joy as people gave the boy food and water and kissed him on the head. The air smelled of decomposing corpses.
Supplies arrive
The U.N. World Food Program began a major airlift of emergency supplies, including high-energy bars to feed 240,000 people.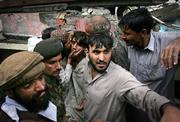 NATO agreed to coordinate an airlift of aid supplies from Europe. Eight U.S. military helicopters based in neighboring Afghanistan shuttled 16 tons of food, water, medical supplies and blankets to quake-hit zones, the military said.
Chinook and Black Hawk choppers flew 102 relief workers and others into the region and evacuated 126 people, said Lt. Col. Jerry O'Hara, spokesman for the U.S. base at Bagram, Afghanistan.
In Washington, a Pentagon spokesman said 25 to 30 more military helicopters would be in Pakistan within days. The Islamabad government also requested earthmovers, forklifts, bulldozers and trucks, spokesman Larry Di Rita said.
The United Nations appealed for $272 million in donations, saying 2 million people were homeless. The United States pledged $50 million, Japan $20 million, Canada $17 million and Britain $3.5 million. Other nations donated more helicopters, money and supplies, including tents, blankets, medical aid and food kits.
Rains slow efforts
Tuesday's efforts were hampered by torrential rains and hail in the mountains of the Pakistani side of Kashmir, and crates of supplies sat on tarmacs waiting to be delivered. At least one U.S. supply helicopter had to turn around because of a rainstorm in the mountain passes, the military said.
The senior army official said that "according to our assessment, the death toll is between 35,000 to 40,000 people." Tens of thousands were injured.
The official spoke on condition of anonymity because he was not authorized to talk to the media about the toll. The estimate matched that of local officials.
Neighboring India said 1,300 people died in its part of Kashmir, the disputed province at the center of two wars between New Delhi and Islamabad.
Indian aid refused
India planned to send a planeload of food, tents and medicine to its longtime rival in what was seen as a boost to the peace process between the two nuclear-armed neighbors. Islamabad, however, refused India's offer of helicopters.
The quake damaged sanitation systems, destroyed hospitals and left many victims with no access to clean drinking water, making them more vulnerable to disease.
"Measles could potentially become a serious problem," WHO spokeswoman Fadela Chaib said in Geneva. "We fear that if people huddle closely together in temporary shelters and crowded conditions, more measles cases could occur."
Copyright 2018 The Associated Press. All rights reserved. This material may not be published, broadcast, rewritten or redistributed. We strive to uphold our values for every story published.