Having fun was the name of the game Saturday when the 6U Dragons and Soccer Hawks matched up at Youth Sports Inc.
Working with an early start and chilly weather, coaches for the Dragons and Soccer Hawks told their players to run around, have fun and try to stay warm.
"I want you all to remember to have fun out there and keep moving around," Dragon head coach Everett Ledbetter said.
Fortunately for both teams, staying warm was not a problem. Rather than turning it into a defensive struggle, both teams ran a fast-paced, full field attack. However, it was the speed and discipline of the Soccer Hawks that enabled them to walk away with the 15-0 victory.
Starting Soccer Hawk forwards Megan Fast and Simon McCaffrey opened the scoring off a quick give-and-go. Finding herself surrounded by Dragon defenders, Fast was able to find an open McCaffrey, who returned the favor as a darting Fast recorded the first goal of the game.
The Soccer Hawks were able to play strong defense all game thanks to the play of Jared Hicks. Hicks roamed the defense, sending any loose balls back into the Dragon zone. Hicks was able to aid offensively, sailing a 10-foot one-timer into the back corner of the goal.
The Soccer Hawks used their quickness in order to constantly have someone on the ball. Nathaniel Spain seemed to harass the Dragons at every moment. Spain was able to break up a Dragon throw in and raced downfield for the open goal.
However, the Dragons would not be discouraged. All game, the Dragons continued to attack offensively. Cole Conner did an exceptional job of using his speed and intensity to bother the Soccer Hawks offense. Conner raced up and down the field, looking to give his Dragons a boost of energy.
Hannah Ledbetter responded, showing her willingness to jump in a crowd to break up a Soccer Hawk attack. With the Hawks charging, Ledbetter jumped in front of a two-on-one scoring opportunity and sailed the ball back into the Hawk defensive zone.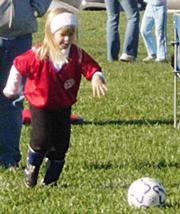 Looking to keep things close, Adam Sampson of the Dragons jumped between the pipes and came up with several key saves. Sampson stuffed several Soccer Hawk scoring opportunities and booted rebounds out of danger and away from the goal.
While both teams battled away, noticeable smiles and laughter engulfed the field.
"Everyone was able to have a lot of fun, and that's all we're really concerned with," coach Ledbetter said.
Copyright 2018 The Lawrence Journal-World. All rights reserved. This material may not be published, broadcast, rewritten or redistributed. We strive to uphold our values for every story published.