Looking to rebound after a heart-breaking loss last week, the Bulldogs tried to get back on track against the Twisters Sunday at Youth Sports Inc.
But the Bulldogs continued their aerial assault offense, gaining large chunks of yards and wearing out the Twisters secondary. Plus the Bulldog defense played to perfection and defeated the Twisters 26-0.
The Bulldogs opened the game with an efficient drive. Tailback Jesse LaMay wore down the front four of the Twisters defense churning out hard earned yards. LeMay carried multiple Twister defenders on his back gaining 15 yards on a carry that set up a three-yard touchdown dive by Garrett Cleavinger.
On the ensuing possession, the Bulldog defense stood strong stifling the Twisters offense. Bulldog Billy Qualls made a five-yard tackle for loss and forced the Twisters into a punting situation.
The Bulldogs took advantage of the field position and quickly jumped on the Twisters secondary. This time Cleavinger attacked through the air, connecting with Will Simmons on a 40-yard touchdown and 14-0 lead at the end of one quarter.
After a disappointing first quarter, the Twisters defense was able to regroup enough to slow down the fast-paced Bulldog offense. Defensive specialist Cameron Jackson was everywhere for the Twisters, coming up with several drive-stopping tackles.
Trailing by two scores the Twisters were forced to put the ball in the air. Twister quarterback Daniel Clausing connected with wide receiver Steve Allen on a handful of occasions moving the ball downfield and giving his defense a much-needed breather.
The offense was able to escape the shadows of its own goal post on a gutsy play call. With Clausing scrambling in his own end zone and defenders swarming, Clausing threw up a ball in Allen's direction. Allen used his size and vertical hops to out leap two Bulldog defenders for a 15-yard gain.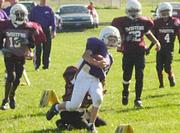 Unfortunately for the Twisters though, the Bulldogs defense stepped up after the big gain and killed another Twisters drive.
All second half the Bulldogs were able to sit back and play the pass, confusing Clausing by placing several players in the secondary.
The Bulldogs' quick-footed Williams broke up several passes and came away with one interception on the afternoon, while lineman Reily Ousdahl was able to rush the passer coming up with a couple of momentum-changing sacks.
On the flip side, the Bulldogs offense picked up right where it left off.
Less than a minute into the second half, Williams took a halfback counter and dashed downfield for a 30-yard touchdown run.
The offense connected on one last touchdown late in the fourth quarter - this time on a pass from Cleavinger to an open Alex Twombly to win 26-0.
Copyright 2018 The Lawrence Journal-World. All rights reserved. This material may not be published, broadcast, rewritten or redistributed. We strive to uphold our values for every story published.