He wants no more controversy.
Perhaps sensing that the quarterback carousel was speeding around so chaotically it was making everybody nauseous, Kansas University coach Mark Mangino made what appeared to be a definitive decision Tuesday.
Brian Luke will start at quarterback Saturday against Oklahoma.
"I told him, 'I'm looking for you to start, to finish, and to win the game,'" Mangino said.
It's a 180-degree turn from his stance a week ago, when the fourth-year coach had trouble picking a starter and even admitted on his radio show that he'd do a quarterback-by-committee if needed.
After Saturday's 12-3 loss to Kansas State, a game bogged down by dismal offensive play, Mangino came to the realization that a committee wasn't needed, wasn't wanted and probably wasn't healthy toward the management of an offense.
"You go way back to the first day I came in here, I told you that my personal preference was to not to (have multiple quarterbacks)," Mangino said. "But I think we've been forced to because we haven't gotten answers in the last few weeks."
Luke and Adam Barmann switched back and forth throughout Saturday's game, with Barmann starting. Luke finished 4-of-13 passing for 86 yards, while Barmann was 3-of-8 passing for just 17 yards.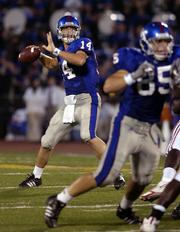 Now, it appears Barmann is headed back to the sideline. Mangino said Tuesday that Jason Swanson is getting increased work with the second-team offense in practice, is healthy and is ready to play behind Luke if he's needed.
"This is the healthiest he's been," Mangino said. "I'm not going to start announcing the number two or three or four quarterback every week, but I think he is perhaps putting himself in a position to be the number two guy. We'll see in a couple days."
What is decided is number one. Now all that's left is to see how solid of a starter Luke is in the eyes of the coaching staff. Mangino appeared serious Tuesday that Luke is the pony he's riding to the finish line.
"After evaluating the last two conference games very thoroughly, we feel that right now that Brian Luke gives us the best opportunity to do what we want to do," Mangino said. "Especially in this particular game plan."
Perhaps the questions will fade away, now. Some teammates feel the quarterbacks have gotten the raw end of the blame game.
"It doesn't matter what quarterback is in," wide receiver Mark Simmons said. "Brian Luke, Adam Barmann, Jason Swanson, Marcus Herford, Kerry Meier, Charles Gordon : if we execute as an 11-man offense, we'll do fine."
¢ Not translating: Barmann, Mangino said, won the right to start against K-State based on performance in practice. But Saturday's effort showed - not for the first time - that Barmann struggles carrying over his abilities into game situations.
"Why? I can't answer that," Mangino said. "My only guess would be that he's not regained the confidence that he had in the past prior to his season-ending injury last year. I don't know that; I can't say that that is the case. Certainly we're not making an excuse for him. He wouldn't want anybody making an excuse for him."
¢ Wideout shuffle: Quarterback is getting all the attention, but it appears Mangino is looking for a facelift at wide receiver, as well.
When questioned about Marcus Herford getting quarterback snaps, Mangino said without solicitation that Herford would get increased playing time at receiver. He also mentioned Charles Gordon and Dominic Roux as candidates to get more snaps on offense.
"What I'm trying to do is I'm trying to create more competition there," Mangino said, "so they push each other and move their performance to another level."
¢ Arrowhead convenience: Saturday's 6 p.m. kickoff for the OU game - which was moved from Lawrence to Arrowhead Stadium in Kansas City, Mo., actually made things a little easier on the Jayhawks.
"We were thinking all along that it'd be a 1 o'clock kickoff, so we would spend the night in Kansas City," Mangino said. "Now that it's 6 o'clock, we will do our Friday routine here and bus over Saturday afternoon. In that respect, actually it worked out pretty well."
¢ Players of the week: Mangino cited linebackers Kevin Kane and Banks Floodman for their efforts against Kansas State, naming them defensive players of the game. Derek Fine was named special teams player of the week.
An offensive player wasn't named.
¢ Ringwood appears: Fullback Bruce Ringwood, who has been suspended since the beginning of the season, appeared in court Tuesday on charges of assault.
Ringwood was arrested Aug. 21 for allegedly scuffling with a husband and wife at a country music concert. Mangino suspended him indefinitely five days later.
¢ Another night game: Big 12 officials announced Tuesday afternoon that KU's game at Colorado would kickoff at 6 p.m. CST on Oct. 22. It will not be televised.
Copyright 2018 The Lawrence Journal-World. All rights reserved. This material may not be published, broadcast, rewritten or redistributed. We strive to uphold our values for every story published.