St. Louis — They are members of the same division. They're perennial playoff teams. And they're meeting for the second year in a row with a trip to the World Series at stake.
All right! Let's have some fightin' words between these obviously bitter rivals.
"They run a classy organization over there," said Lance Berkman of the Houston Astros. "We have a lot of respect for them."
Hmm, maybe we'll fare better at stirring things up in the opposing clubhouse.
"They're a good bunch of guys," said David Eckstein of the St. Louis Cardinals. "It's hard to dislike them."
Clearly, this isn't Middle America's version of Yankees-Red Sox. In fact, it's not even close to being the best rivalry in the NL Central - that distinction belongs to the Cardinals-Cubs.
"That's at a different level because of the fans," Eckstein conceded. "I don't know that you'll find a Cardinals fan who says he hates the Astros more than the Cubs."
But, when it comes to performance on the field, the Cardinals and Astros have risen to the top of the senior circuit.
They're back for the first NL championship series rematch in 13 years, which begins with Game 1 tonight at soon-to-be-demolished Busch Stadium (a new stadium, set to open in 2006, is rising next door).
"It's a classic from a baseball standpoint," Cardinals manager Tony La Russa said. "Maybe you don't get as much passion from the fans during Cardinals-Astros as you do for Cardinals-Cubs. But we're building a pretty good passion base for our fans and for each other because we play so much."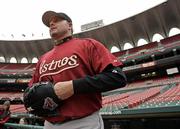 Indeed, there are many similarities between the teams.
Both have deep starting rotations. Both have dominating closers. Both have versatile offenses that can go long or manufacture runs when the situation calls for it. And both are making a habit of playing in October.
St. Louis has six playoff appearances over the past decade, reaching the NLCS four times and the World Series a year ago with a seven-game victory over the Astros - a memorable series that was overshadowed by Boston's comeback win against the Yankees in the ALCS.
The Cardinals stayed alive when Jim Edmonds hit a game-winning homer in the 12th inning of Game 6. St. Louis closed out the series by beating Roger Clemens in Game 7.
Houston is making its sixth playoff appearance in nine years and looking to reach the World Series for the first time in franchise history. The Astros made a breakthrough last year by escaping the opening round, beating perennial nemesis Atlanta.
They knocked off the Braves again this year, advancing with an 18-inning win Sunday - the longest game in postseason history.
Now, even after meeting 16 times during the regular season and preparing for Astros-Cardinals II, both sides say it's impossible to drum up the sort of hatred that signifies a truly passionate rivalry.
For one, Houston still feels like a junior member instead of an equal partner.
The Cardinals followed up last year's NL pennant - the 16th in franchise history - by going 11-5 against the Astros this season on the way to 100 wins and a runaway victory in the Central Division.
Houston finished 11 games back, but managed to pull out the wild card after falling 15 games under .500 early in the year.
"It's not really going to be a rivalry until we start beating the Cardinals a couple of times," Astros manager Phil Garner said. "When they go home mad, then it will be a rivalry. Right now, it's kind of one-sided."
But he acknowledges the parallels between the teams, right down to the makeovers both underwent since their first meeting in the NLCS, changes brought on by frail health and monetary decisions.
Albert Pujols had another huge year (.330, 41 HRs, 117 RBIs), but he's the only one in the St. Louis lineup to reach triple figures driving in runs. He had a lot more help last year, but injuries to Scott Rolen, Larry Walker and Reggie Sanders forced the Cardinals to be more creative with their offensive production.
"We do the little things," said first-year Cardinal Mark Grudzielanek, who wasn't around for last season's power display. "I've never seen so many squeezes in my life."
The pitching staff also picked up the slack. The Cardinals got a huge season from Game 1 starter Chris Carpenter (21-5), backed him up with offseason acquisition Mark Mulder (16-8) and rounded off the rotation with Jeff Suppan (16-10) and Matt Morris (14-10). Jason Isringhausen had 39 saves.
Copyright 2018 The Associated Press. All rights reserved. This material may not be published, broadcast, rewritten or redistributed. We strive to uphold our values for every story published.