Topeka — Nineteen more Kansas public schools have failed to meet federal education benchmarks that determine such things as whether students are allowed to transfer or receive tutoring, according to data released Tuesday by state education officials.
Under the federal No Child Left Behind law, schools are required to make sufficient progress on improving test scores, graduation and attendance rates to achieve what is called "Adequate Yearly Progress." The goal is to have all students proficient in math and reading by 2014.
Schools that fail to meet the standards could be forced to do everything from providing tutoring for students to reorganizing. Those penalties only apply to Title I schools, which receive federal money to assist poor children.
Photo Gallery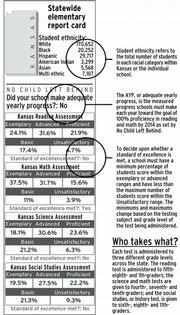 School assessment results
School officials said the number of schools failing to meet the benchmarks grew by 19 between the 2003-04 and 2004-05 school years to 121. That's about 9 percent of the total number of schools in the state.
"It is not surprising at all that we would see the number of schools not making AYP increase as performance targets continue to climb," said Alexa Posny, deputy commissioner of education at the Kansas State Department of Education. "We are fortunate in Kansas that many of our schools perform at a high level, so the increase in schools not making AYP from year to year has been very small."
Newly appointed Education Commissioner Bob Corkins noted that state test scores showed that the achievement gap generally was narrowing between minority and nonminority students, as well as native and nonnative English speakers.
"This speaks well for the direction our state board has taken in endorsing rigorous academic standards, and for the work of our educators in the field in preparing students to meet those standards," he said in a news release.
One of the most notable improvements was among fifth-graders for whom English is a second language. Fourteen percent more of those students reached the proficient level on the reading portion of the state test.
State report cards
Copyright 2018 The Associated Press. All rights reserved. This material may not be published, broadcast, rewritten or redistributed. We strive to uphold our values for every story published.