Fire investigators expect to start searching through the rubble of a burned-out apartment building today as they try to determine what caused the massive fire at a northwestern Lawrence apartment complex on Friday.
Nearly 50 local, state and federal investigators have been gathering in Lawrence, with their equipment, for the effort, said Mark Bradford, interim chief of the Lawrence-Douglas County Fire & Medical Department.
Included are up to 25 investigators from the federal Bureau of Alcohol, Tobacco, Firearms and Explosives' national response team, who were to arrive in Lawrence by Saturday night, Bradford said.
"We're able to pull upon their expertise and their large staff to come in and do this in a much quicker fashion," Bradford said during a news conference Saturday across the street from the fire scene at the Boardwalk Apartments complex in the 500 block of Fireside Drive.
The fire caused $2.1 million in insured losses to the building, Bradford said. That doesn't include contents and vehicles parked near the building that also were damaged, he said.
Three still missing
Meanwhile, three people remain missing from the building. Bradford wouldn't release their names, but Maria Gonzalez fears that her 50-year-old brother, Jose Gonzalez, is one of them.
"They say to prepare for the worst," Maria Gonzalez said of her conversations with fire investigators and relief workers.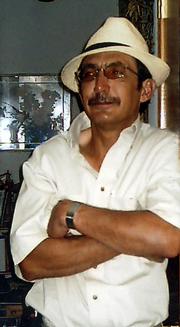 Saturday morning a distraught Gonzalez stood behind yellow police tape and stared across the street at the area of the building where her brother had lived since April. Only ashes and piles of rubble remained where his apartment was on the first floor near a laundry room of the three-story, 76-unit building.
Maria Gonzalez and others in her family haven't heard from Jose Gonzalez since Thursday night. A relative in Texas had talked to him by phone that evening, she said.
"He had just taken a shower and was going to watch the Houston Astros game on television," Maria Gonzalez said. "He hasn't contacted anybody. We haven't been able to call him. He wouldn't go anywhere without telling us."
Jose Gonzalez also had failed to show up for work Friday at Quality Electric Inc. in Lawrence, Maria Gonzalez said.
'Just chaos'
Douglas County emergency dispatchers began receiving numerous 911 calls reporting the fire at 1:19 a.m. Friday. Firefighters arrived to find the blocklong building in flames.
Occupants on the upper two floors were jumping out of windows trying to escape. Many broke bones in the falls and some were burned. About 20 residents were either taken by ambulance or went on their own to Lawrence Memorial Hospital. Most were treated and released. Three people were transferred to Kansas City hospitals with critical injuries. There was no new information about their conditions Saturday, Bradford said. Their names were not released.
"It was just chaos around here," Jason Helm, maintenance worker at the apartment complex, said shaking his head Saturday morning as he recalled that night.
Photo Gallery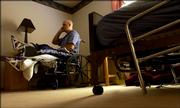 After the fire at Boardwalk Apartments
David Thomas lives in the apartment building across the street. About 12:30 a.m. Thursday he and his wife, Leah Thomas, went onto the walkway outside their second-floor apartment to smoke cigarettes. They saw nothing out of the ordinary and the night was quiet, David Thomas said. They went back inside and Leah went to bed.
About 30 minutes later David Thomas heard noise and went outside again to see the building across the street engulfed in flames. He said he saw someone on the third-floor walkway who seemed to be collapsing to the floor and then the walkway and that portion of the building collapsed.
"It was the most horrific thing I've ever seen," Thomas said.
Thomas told his story to a fire investigator Saturday afternoon. Investigators spent much of their time Friday and Saturday interviewing witnesses as well as occupants of the fire-ravaged building, Bradford said.
Structural threats remain
Saturday night, no effort had yet been made to go into the rubble because there were still some smoldering hot spots. The remains of the building were also structurally unsafe. ATF is bringing in structural engineers to see what needs to be done to allow today's fire scene investigation to begin, Bradford said.
Although many people have already been interviewed, Bradford asked that anyone who occupied the burned building to contact the fire investigators again by calling 832-7600. Some of the people interviewed the first time may have moved to other locations, he said.
How to help/how to seek assistance
Here's some contact information to help victims of the Boardwalk Apartments fire, or to get help: ¢ To help fire officials determine who is missing and who has been found, call 832-7600. ¢ To make a cash donation to the Douglas County chapter of the American Red Cross, which was providing clothes, food and shelter to fire victims, call 843-3550. ¢ Kansas University students who were victims of the fire can seek help on academic issues from the Academic Achievement and Access Center, 864-4064. ¢ Fire victims who need a new place to live can check out a clearinghouse of apartment vacancies at www.ldcha.org. For more information, call Lawrence-Douglas County Housing Authority director Barbara Huppee at 830-2250.
"One of the fire investigators will recontact them possibly to ask further questions," Bradford said.
Investigators hope continued interviews and other information being sought also will lead to good news about the missing people. He said releasing information about those people now could hinder the investigation, although he didn't say how.
"Originally we thought we had 20 people missing," Bradford said. "Through various interviews and investigative techniques we hope to be able to find the three occupants. That's our goal. That's our mission and we'll go from there."
Bradford wouldn't speculate on what might have caused the fire or where it might have started.
In addition to conducting interviews, investigators also were assessing the best methods to use to investigate the scene.
"That's part of the investigation you don't see because people are not out here, but it is continuing and the process issues are continually being discussed," Bradford said.
Several ATF agents and fire department investigators were looking over the ruins from the street and taking photographs Saturday. The Kansas Highway Patrol had taken aerial photos, Bradford said.
"We have to do this very methodical," Bradford said. "It is going to take time."
In addition to ATF, the fire department is being assisted by the Lawrence Police Department, the Douglas County Sheriff's Department, Kansas University Public Safety Office and the Kansas Fire Marshal's Office.
"If we were doing this ourselves we would be here for weeks," Bradford said.
Photo Gallery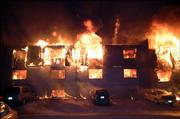 Fire at Boardwalk Apartments
'It was scary'
Saturday saw a continuous stream of onlookers at the fire scene. Some of them were former tenants of the building who barely escaped the flames, including Brady DeSanti, a Kansas University graduate student.
DeSanti was accompanied by his parents, from Omaha, Neb., who stood with him and looked at where his first-floor apartment had been. They took some photographs.
DeSanti had been alerted to the fire by people screaming on the floor above him. He opened his door and saw flames. He ran through them to escape and suffered minor burns to an ear and the back of his neck. He sought treatment on his own at LMH.
"It was pretty scary," DeSanti said.
DeSanti also considers himself lucky in another way. He had made a recent decision to obtain renters insurance.
500 block of Fireside Drive
"It's turned out to be the best decision I've made," he said.
Some tenants in other buildings at the Boardwalk complex said Saturday that the fire had frightened them and they wanted to move. Thomas wants to move his family from their unit across the street but management didn't want to let him out of his lease, he said. His apartment sustained smoke damage, he said.
"I have asthma and my children have asthma and we can't live in this," he said.
The Boardwalk management released a short statement Saturday stating that they had a number of tenants who had lost everything in the fire, including some pets. Furniture, canned food items, bedding and blankets, "anything that makes a house" is needed, the statement said.
The Douglas County Chapter of the American Red Cross had handled 80 cases of victim assistance, including some families, director Jane Blocher said Saturday. Only two or three families required assistance in being relocated to hotels, she said.
Boardwalk Apartments Fire
More on the Boardwalk Apartments Fire
Copyright 2018 The Lawrence Journal-World. All rights reserved. This material may not be published, broadcast, rewritten or redistributed. We strive to uphold our values for every story published.