It's been more than a year since the Douglas County Sheriff's Office purchased several electric stun guns, called Tasers.
The Tasers still aren't being carried by any deputies, but that day is coming, Sheriff Ken McGovern said last week.
Nationwide publicity about some controversies have developed over the past couple of years concerning Taser use and safety, but Douglas County hasn't changed its mind about putting them into service, McGovern said.
"It hasn't gone that extreme, we just want to make sure the officers use them correctly," he said.
The biggest hold up has been other, more pressing training needs and the development of an adequate policy and training plan for Tasers, McGovern said.
"You want to make sure your training and your policy match," he said.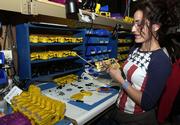 The policy and training plans are ready for implementation. Now it is a matter of scheduling the training, McGovern said. That will begin soon, but no date has been set. He also declined to estimate when deputies will begin carrying the weapons.
Moreover, a determination still needs to be made concerning which deputies will carry Tasers, McGovern said, adding that the weapons will probably go to supervisors in patrol, jail and court security.
The department only has nine Tasers. Nevertheless, all deputies will go through an eight-hour training course on Taser use. The training will be conducted with a few deputies at a time.
Earlier this year, four deputies were trained to be the department's trainers.
Efforts to obtain Tasers for the department first began in early 2004 under then-Sheriff Rick Trapp. The department decided to use funds from a $10,000 federal law enforcement grant to purchase Tasers, which cost about $800 each.
Tasers use five watts of electricity to disable someone by causing "electro-muscular disruption." That causes a person to fall to the ground, temporarily paralyzed.
The Taser can be used on a suspect by pulling the trigger after making contact with a suspect, or by shooting out two wire prongs that latch onto a person. The wires can reach about 20 feet.
Tasers have already been used by many law enforcement agencies regionally and nationally. Though the Taser has been touted by its makers, TASER International of Phoenix, as safe even if used on someone with a heart pacemaker, there have been some allegations of people suffering serious injuries or even dying from the use of Tasers. There also have been allegations of police abuse of the Taser, including in Kansas City, Mo..
The experiences other departments have had with the Taser have been taken into consideration by Douglas County, McGovern said.
The TASER gives deputies another option besides baton, pepper spray or handgun.
Suppose a deputy were confronted by someone with a weapon who ignores the officer's orders to disarm.
"The officer has a choice of either using lethal force or less than lethal force, and this might be a good opportunity to use the Taser," said Sheriff's Lt. Kari Wempe, department spokeswoman.
The Kansas City, Mo., Police Department started using Tasers a few years ago. It has since tweaked its use-of-force policy based on experience. Though there is a lot of officer discretion, the department basically calls for Tasers to be used when a person is physically non-compliant with an officer's orders, said training officer Sgt. Tye Grant.
"You allow the circumstances to dictate your level of force," Grant said.
Kansas City officers will not use Tasers on pregnant women because it could cause them to fall down, or on elderly people. They will not use them on children unless someone's life is in danger or if a child is attempting suicide with a weapon, Grant said.
There are lawsuits pending against TASER International Inc. by officers in five states - including Kansas - who claim they suffered serious injuries when they were "tased" during training. Kansas City no longer requires its officers to be tased as part of their training, Grant said.
Copyright 2018 The Lawrence Journal-World. All rights reserved. This material may not be published, broadcast, rewritten or redistributed. We strive to uphold our values for every story published.