Nashvile, Tenn. — James Settles helped start a faith-based halfway house called Aphesis - meaning "to let go" in Greek - to keep former inmates from returning to prison.
The inspiration came from his own life: After eight years in prison for selling drugs, he spent two years in a halfway house that provided spiritual instruction.
"Once people get out, they need somewhere to go or a mentor to help keep them on the right track," said the 42-year-old Settles, who has been running the house in Nashville for two years. "Even more, there's got to be a spiritual side."
Aphesis is among a growing number of programs nationwide - both inside and outside prisons - that are using religion to try and curtail the nation's high recidivism rate.
Of the nearly 300,000 prisoners released in 15 states in 1994, 67.5 percent were re-arrested within three years and 51.8 percent went back to prison, according to a study released in 2002 by the Department of Justice.
But a 2003 study by researchers at the University of Pennsylvania showed that, of the inmates who participated in a faith-based pre-release program, only 8 percent returned to prison within two years, compared to 20.3 percent who weren't in the program.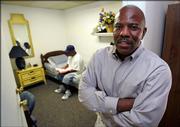 Such statistics are being used to justify congressional legislation that would provide grants to social service programs - including religious programs - to tackle the problem of recidivism.
U.S. Rep. Danny K. Davis, an Illinois Democrat, is a sponsor of the Second Chance Act, which he says would provide former inmates with "a stable environment and someone to help them" once they're released. "If they don't get that, they'll probably be back," Davis said.
There are many secular transitional programs for inmates and ex-offenders, but supporters say faith-based programs are more effective.
"They do what many professional counselors have a hard time doing," Davis said. "Something special happens when you get people to shouting and praying."
The exact number of faith-based transitional or in-house prison programs is unknown. But President Bush has spurred the growth of such programs by giving more federal money to religious social service organizations, including those that fight recidivism.
Aphesis in Nashville does not receive federal money now, but Settles hopes he will be able to apply for federal grants soon. Besides giving former inmates a place to stay, Aphesis helps them with basic life skills, such as how to prepare a resume and dress appropriately for a job interview. The spiritual instruction is a nondenominational mix that tries to impress upon former inmates the idea that they're answerable to a higher power.
Settles said he chose the name for his program because it's not just a letting go of the old, prison life, but also a "forgiveness" for what happened in their pasts.
Preferential treatment?
Hedy Weinberg, executive director of the American Civil Liberties Union of Tennessee, said she supports programs that help inmates fit back into society. "But that premise breaks down when state government only provides faith-based programming for their inmates," Weinberg said. "There needs to be more than just faith-based programs."
Others say such programs give preferential treatment to inmates who participate. Robert Boston, spokesman for Americans United for Separation of Church and State, said he's heard of cases where inmates won perks by joining such programs.
"The state cannot apply different treatment like that purely on the basis of religion," Boston said.
Most states, like Tennessee, have a long history of at least allowing religious groups to come in and talk to inmates.
"The program I developed is called 'Learning to Live,"' said Jim Boyd, a real estate entrepreneur who teaches two classes a week at Riverbend Maximum Security Prison in Nashville. "I work with Muslims, Christians, all forms of religion. My whole idea is to get guys to change their way of thinking about life."
Spreading concept
Jim Cosby, assistant commissioner of rehabilitative services in Tennessee, said a re-entry program is being developed that enlists the faith-based community to mentor inmates once they're released.
Florida and Indiana run residential-style religious programs. These programs create segregated housing units for prisoners who volunteer to live in a religious setting. They keep journals, attend small group discussions and hold personal reflection times, in addition to regular worship services.
Former California state lawmaker Pat Nolan said he didn't realize just how beneficial such programs can be until he was incarcerated. The one-time Republican leader pleaded guilty to racketeering and served 25 months in a federal prison and four months in a halfway house.
While locked up, Nolan said he realized that policies "I supported as a legislator destroyed a lot of lives and didn't make us any safer."
"I went back to the people in government and said, 'I know you think you're doing what's right, but it's not making our communities safer,"' said Nolan, who's now president of the Justice Fellowship, the public policy arm of Prison Fellowship Ministries.
Richard Simon, who attended Boyd's classes at Riverbend and went to Aphesis upon release about a year ago, would like to think he's the exception.
"You think you can make it on your own after being locked up so long," said Simon, who spent 25 years in prison on a murder charge before being paroled. "But with the high recidivism rate, I knew I needed help to be successful. And I got it."
Copyright 2018 The Associated Press. All rights reserved. This material may not be published, broadcast, rewritten or redistributed. We strive to uphold our values for every story published.