Dave Klebek knew there was trouble outside his door early Friday morning at Boardwalk Apartments.
"I thought it might have been a fight or some other commotion," Klebek said of the disturbance that got his attention shortly after 1 a.m.
When he opened his front door, though, he found raging flames on the patio ledge that drove him back inside his apartment, where he grabbed his cat and jumped out the back window. He was on the second floor.
"It wasn't much of a drop," said Klebek, who was not injured.
Klebek was lucky. Eighteen people were injured, two critically. Many had broken bones from escaping through second- and third-story windows as they fled the massive fire that destroyed the 76-unit apartment building in the 500 block of Fireside Drive.
Three residents were still missing as of Friday afternoon, said Lawrence-Douglas County Fire & Medical Interim Chief Mark Bradford. He refused to name them or provide any identifying information, but Kansas University officials said late Friday afternoon that one of the missing is a KU student. No name was released.
Photo Gallery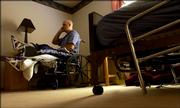 After the fire at Boardwalk Apartments
When asked if he feared those residents dead, Bradford said: "I had a fear we had more than that earlier. I'll still have that fear until they're located."
The fire destroyed the homes of more than 80 residents, pushed Lawrence firefighting resources to the limits and prompted one of the biggest local relief efforts in the history of the Douglas County American Red Cross.
It also provoked suspicions from witnesses who said the blaze spread too quickly to have been accidental.
But Bradford, saying the on-site investigation wouldn't begin in earnest until Sunday, fended off speculation about the fire's cause.
He acknowledged that firefighters were surprised to find such a large building so quickly engulfed in flames early Friday.
"This is somewhat perplexing" he said.
'I heard screams'
Joseph Anderson, a Haskell student who lives in a nearby apartment, was playing video games with friends and became aware of the fire shortly after 1 a.m. He said he was joined by three friends as they pounded doors to try to alert sleeping residents to leave the building.
"We were all hysterical, yelling," he said. "I heard screams. I couldn't do anything for them : it was moving so fast."
Christopher Collins left his apartment clothed only with a blanket.
Boardwalk Apartments Fire
More on the Boardwalk Apartments Fire
"Somebody banged real hard on my door - the real hard type where you think it's coming off the hinges," he said. "I looked out my door to see where the fire was, figuratively speaking. I saw it was four doors down."
Bradford said dispatchers received "numerous" 911 calls about the blaze at 1:19 a.m.; the first crews arrived on scene six minutes later, and soon all 39 on-duty Lawrence firefighters were committed to battle.
"It was an all-hands fire," said Bradford, who summoned additional help from the Lenexa and Olathe fire departments, as well as a Johnson County ambulance service, later saying: "The size of this particular incident exceeds the resources we have."
"I can tell you there were a lot of people on balconies," he said. "A lot of those people did jump."
The blaze started with a column of glowing embers that threatened nearby apartments and office buildings, and which started one small grass fire about a block south. Police evacuated the nearby apartments, and firefighters quickly poured water on the building to prevent the fire from spreading.
"It was difficult," Bradford said. "There was a lot of fire."
The center portion of the 400-foot-long building soon collapsed, and firefighters worked until 4:30 a.m. to get the blaze under control in the remaining, gutted parts of the structure. The site remained so hot, however, that Bradford said fire investigators wouldn't be able to collect physical evidence from the scene until Sunday morning.
He also said it was too soon to know where the fire had originated and how it spread.
Investigators from Lawrence Police Department, Kansas University Public Safety, Douglas County Sheriff's Office, Kansas Fire Marshal's Office and the federal bureau of Alcohol, Tobacco and Firearms were assisting in the investigation, Bradford said.
"There's a lot of interviews to be done and a large area to cover," he said.
Photo Gallery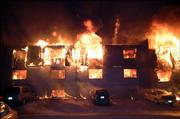 Fire at Boardwalk Apartments
'Significant fire'
Bradford said seven people were transported by ambulance to Lawrence Memorial Hospital, including two who were then taken by helicopter to hospitals in Kansas City; a third person was transferred to Kansas City by ambulance. Another 11 residents, he said, took themselves to LMH for treatment of minor injuries.
"All the people we saw were mostly burns and broken bones," said Belinda Rehmer, LMH spokeswoman.
KU officials said that two of its students were injured in the fire, one critically.
Uninjured Boardwalk residents were soon directed to the nearby American Legion hall, 3408 W. Sixth St., where Red Cross volunteers dispensed clothing vouchers, meals and shelter.
500 block of Fireside Drive
Approximately 70 people had been given assistance by Friday afternoon; only a handful used the hall as a sleeping place.
"Most individuals have left with family and friends or have some alternative housing," said Wendy Leedy, an official with the Douglas County chapter of the American Red Cross.
The Red Cross relief operations were transferred Friday afternoon to First Baptist Church, 1330 Kasold Drive. No overnight shelter was planned; one family was being furnished with hotel accommodations.
"There's nobody here," said Jane Blocher, the local Red Cross director.
Late Friday afternoon, Lawrence-Douglas County Housing Authority officials had established a clearinghouse to provide fire victims with a list of vacant apartments in Lawrence, but officials said that many residents were being relocated to other units at Boardwalk.
Bradford said the blaze ranked high in size and intensity among Lawrence fires of recent years.
"I think it's a significant fire," he said. "I've been here five years, and it's one of the largest (I've seen) - certainly the largest occupied building."
- Staff writer Scott Rothschild contributed to this report.
How to get renters' insurance
Renters' insurance generally can be purchased from the same company where people get their car insurance, said Fran Hopkins, a certified insurance counselor with CEK Insurance in Lawrence. To get renters' insurance, people should figure up the cost of all their belongings if they had to be purchased new. "You need to think about buying clothes, books, electronics, sheets, towels - anything you have now," Hopkins said. "People should consider inventorying their belongings or videotaping it and keeping the video in a different location." She suggests people get a policy worth about $20,000. "It's usually pretty affordable," she said. "You'll have a deductible that usually ranges from $250 to $500. But you can probably find renters' insurance from $10 to $15 a month for something like a $20,000 policy."
Copyright 2018 The Lawrence Journal-World. All rights reserved. This material may not be published, broadcast, rewritten or redistributed. We strive to uphold our values for every story published.