BULLETIN (As of 3:37 p.m.) - All but three residents of the Boardwalk Apartments have now been accounted for, according to emergency response officials.
The tally of injured persons settled at 18, according to latest report from Lawrence-Douglas County Fire & Medical. No fatalities have been reported.
There were conflicting reports earlier in the day about the number of people hurt in the blaze that destroyed the 76-unit apartment complex.
Officials said the core of the fire was still too hot this afternoon for thorough investigation of the cause. The site won't cool enough for that work to begin until Sunday, officials said.
Meanwhile, investigators have been interviewing witnesses and gathering evidence away from the fire's epicenter.
At least 15 people and perhaps as many as 25 were seen at Lawrence Memorial Hospital as a result of the early morning fire at Boardwalk Apartments in the 500 block of Fireside Drive.
The fire apparently broke out shortly after 1 a.m. (See earlier story)
By 10 a.m., according to LMH officials, 10 of 15 injured persons seen at the hospital had been treated and released. Three had been transferred to KU Med Center in Kansas City, Kan. And two remained at LMH listed in good condition.
"All the people we saw were mostly burns and broken bones," Belinda Rehmer, LMH spokesperson, said.
At a 10 a.m. briefing for reporters, Lawrence-Douglas County Fire & Medical Chief Mark Bradford said 25 people had been seen at LMH and that 25 residents of the apartments were still not accounted for. He said 18 people went to LMH on their own and that seven were taken there by emergency workers. Another two people were taken by air ambulance to Kansas City, Bradford said.
There was no immediate explanation why Bradford's count of injured persons did not jibe with that of LMH officials.
Firefighters and investigators continued to comb through the rubble of the destroyed 76-unit apartment complex.
Photo Gallery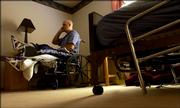 After the fire at Boardwalk Apartments
"I have no idea, if there were any fatalities," Bradford said.
Loved ones or friends of missing apartment dwellers were asked to call 832-7600.
Bradford wouldn't say if arson was suspected. Witnesses said the blaze mushroomed, totally engulfing the complex within minutes.
"This is perplexing" that a fire could damage a large building so quickly, Bradford said
Investigators from Lawrence Police Department, Kansas University Public Safety, Douglas County Sheriff's Office, Kansas Fire Marshal's Office and the federal bureau of Alcohol, Tobacco and Firearms were assisting in the investigation, Bradford said.
"There's a lot of interviews to be done and a large area to cover," he said.
The Red Cross' relief efforts for blaze survivors were to be moved at noon from the American Legion to First Baptist Church on Kasold.
Photo Gallery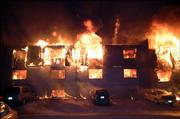 Fire at Boardwalk Apartments
Wendy Leedy of American Red Cross said the agency had helped as many as 50 people over night but only a handful had actually stayed at the shelter. Most left to stay with family or friends, she said.
Bradford said another briefing would be held at 3 p.m.
Jerry Wheeler, who lives in an apartment across the street from the blaze, said his cat woke him shortly after 1 a.m.
He said he saw the fire burning on a lower level of the complex in front of his home. Within minutes the building was wrapped in flames and raining fire on the neighborhood. The grass was scorched near the door of Wheeler's apartment though it was at least 150 yards from the blaze.
"It was total pandemonium," Wheeler said. "People running, screaming. It was like it was raining pinecones of fire."
Wheeler said he thought propane tanks on various barbecue grills were exploded by the heat and contributed to the speed of the fire.
500 block of Fireside Drive
Copyright 2018 The Lawrence Journal-World. All rights reserved. This material may not be published, broadcast, rewritten or redistributed. We strive to uphold our values for every story published.