If you don't know who Dan Zanes is, chances are your kids do.
The former Del Fuegos frontman has undergone a career rebirth by immersing himself in "age-desegregated folk music." In layman's terms, that means songs that children love but adults can equally enjoy.
Whereas Zane's Fuegos - dubbed Rolling Stone's best new band of 1984 - once enjoyed airplay on MTV, he has recently found a much younger fan base on Noggin. The kids-aimed network (Sunflower Broadband Channel 111) shows his peppy, homespun videos on seemingly perpetual rotation.
"I made so many mistakes playing rock and roll," Zanes says. "Although I had a great deal of fun, it was how I squandered my youth. It's just incredible to have this new chapter and this new audience of young people. In a way, kids are always the things I wanted grownups to be."
Now his band Dan Zanes and Friends is bringing the act on the road in conjunction with the release of his first DVD, "All Around the Kitchen! Crazy Videos & Concert Songs!," and new picture book "Jump Up!"
The 44-year-old Zanes' creative philosophy evokes a time when families and friends of all ages gathered around their neighborhoods to play instruments and sing songs - and the loose, social atmosphere of his concerts reflect that.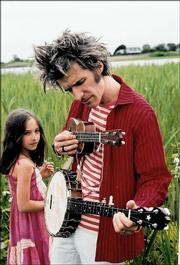 He says, "We can have a full-blown dance party before lunchtime."
Q: Has the communal experience of enjoying music been lost among families in the modern era?
A: I wouldn't say it's completely lost, but it's a little anemic. It's certainly not what it was. It's not part of our daily lives and integrated into society the way it was. But I'm really optimistic that we're getting back to it a little more. ... We're living in such divisive times and such unstable times that music-making is where a lot of us can go for refuge to bring our spirits back up to get reconnected with other people.
Q: Are there any specific musical elements that define a Dan Zanes song?
A: I think it's important that the music sounds as though it's being played in a house. And it is being played in a house. We make the records here in my home in Brooklyn. The feeling that I want people to get when they hear it is the idea that music lives in the home. The studio is such an abstract concept, if you think about where technology is taking it all, by using digital reverbs and all kinds of effects to make it sound like people in a room. Well, you can just put people in a room and it will sound like that.
Q: Is the collaborative process within a band any different when putting together a family-friendly tune as opposed to a song you'd perform for an adult audience?
A: It's just a lot less pressure to make it be any one thing. The creativity is much higher for me because I'm not thinking about, "Is it going to be on the radio?" Of course it's not going to be on the radio. (laughs)
Past Event
When: Saturday, October 8, 2005, 11 a.m.
Where: Lied Center, 1600 Stewart Drive, KU campus, Lawrence
Cost: $10 - $20
-->
-->
Q: You may not be on the radio, but you're always on TV. How much has Noggin increased your visibility?
A: A lot. It's been really great to have these videos shown on Noggin. I wish TV weren't as powerful as it is. I wish kids were watching a lot less TV. But they're not. Statistics are pretty grim. Younger and younger kids have TVs in their room, and it's more hours per day. But having said that, it's also the best way for me to reach people. I could tour every night of the year, and I still wouldn't be reaching a lot of families whose only access to culture is through television.
Q: Have you always liked kids?
A: I've never disliked kids. I just never felt like I was good with kids. I was intimidated by the world of kids until my daughter (Anna) was born. Then I realized that not only am I pretty good with kids, I care about them and I care about the world they're growing up in. When I was doing rock and roll - as fun as it was - I was really just in it for myself. I have a little bit of a broader view of things now. It's tremendous to feel that I could possibly have something to offer somebody.
Q: Are there certain lyrical topics or words that really seem to appeal to kids?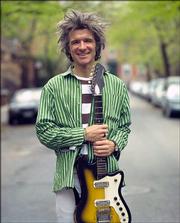 A: It seems very clear that kids are fascinated by dinosaurs, although I've never done any singing about dinosaurs. I go by what my daughter and her friends like - that's how I do a lot of my research - but she's 10 now, so it's harder. I have to go back into schools and play to stay connected to the younger crowd. But I think animals are always weird and mysterious for kids. I think weather is something that is a lot more interesting for kids than for grown-ups. It tends to be simple things that as we get older we take a little for granted.
Q: Besides your books, do you have any projects in the works that don't have anything to do with music?
A: Not really. I'm kind of a one-trick pony. As things get further away from music I'm on less solid ground. But I am hoping to work with the Magic Flute company to develop a line of ukuleles based on their Flea ukulele.
Q: Do you have any particularly strong memories of performing in Lawrence?
A: Lawrence was always kind of an eye-opening experience for us, because Woody Geissman from (Wichita's) The Embarrassment was The Del Fuegos' drummer. We were always able to walk into Lawrence with a good amount of friends. We hadn't met them before; they were all Woody's friends. But they became our friends, too. ... Playing shows in the middle of the country were always much better for us than playing shows on either coast, because we felt more appreciated. And we got more into the heart of the matter as far as rock and roll energy is concerned. I'm excited to go back. It's been 15 years, probably.
Copyright 2018 The Lawrence Journal-World. All rights reserved. This material may not be published, broadcast, rewritten or redistributed. We strive to uphold our values for every story published.