For Mark Davis, the black tire marks tell the story.
The fresh rubber scorches mar the curbs of the city's newest roundabout at Clinton Parkway and Lake Point Drive.
Davis, manager of the Clinton Lake Mini-Mart, said he's sure many of the marks were left by his customers who pull boats, camper trailers or drive large recreational vehicles.
"I don't hear anything good about it," Davis said.
Davis said he's struggling to understand why the city put a roundabout on a street that is a prime route to Clinton Lake and will have a much larger percentage of trailer-toting motorists.
Megan Hiebert, owner of the Clinton Lake Marina, said she's hearing many of the same concerns from her customers.
"It will be difficult to get the longer trailers through there," Hiebert said. "It seems like the city's traffic calming device is stirring a lot of people up."
But city officials said the roundabout, which opened late last month, hasn't been generating complaints at City Hall. In fact, Chuck Soules, the city's director of Public Works, said he has heard from some people who appreciate that the roundabout is significantly larger than previous roundabouts built in the city.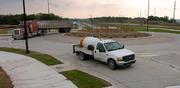 "We feel like we have sufficient room out there where people can feel comfortable navigating it," Soules said. "I think that roundabout could go a long ways in helping people accept roundabouts in general."
Davis said he's been getting an "earful," and he said it is not just because people don't like slowing down, though he admitted that was part of it. Davis said many people have concerns about their boats or trailers being damaged when they drop off a curb.
"You don't want the fender of a boat trailer dragging over something like that," Davis said. "A lot of those boats are pretty expensive."
Soules, though, said the roundabout was designed with trailers in mind. The roundabout has a truck apron designed to be driven on by vehicles that need extra room to navigate. Soules said even though the roundabout is only marked for one lane of traffic, with the apron it actually was as wide as two lanes.
Not everyone is seeing a problem. Chad Price, a manager with Preferred Lawn Service and Landscaping, said he drives through the roundabout every day - often pulling a trailer - to get to his office near the entrance of the Clinton Lake State Park.
"It's not a real big deal," Price said. "It does what it was supposed to do - slow people down. That's probably a good thing."
Clinton Parkway and Lake Point Drive
Soules said the roundabout was needed because the area will experience more traffic because of new development along Lake Point Drive. The area is expected to have about five acres of commercial space and about 400 new dwellings that will include a mix of apartments, townhomes and single-family homes.
Developers in the area paid for the entire $421,000 cost for the roundabout - city officials have said that a roundabout typically costs between $56,000 and $328,000, depending on the location and specific needs.Soules said city officials did not consider asking developers to build a "dual-lane roundabout" that would have allowed two lanes of traffic to travel through the device at the same time.
Soules said the roundabout was designed to handle all the traffic the city foresees for the area. He also said he wasn't sure how drivers would have responded to a dual-lane roundabout, which would have been the first in the city.
"We first need to make sure that everyone is on board with the single-lane roundabouts and knows how to use them before we move onto the dual-lane roundabouts," Soules said.
Hiebert said she's worried that city officials may find the roundabout is undersized on certain busy weekends at the lake.
"Imagine what it will look like during Wakarusa Fest," Hiebert said.
Copyright 2018 The Lawrence Journal-World. All rights reserved. This material may not be published, broadcast, rewritten or redistributed. We strive to uphold our values for every story published.