"I'm going. But I don't know all the plans yet."
One of my daughters, Katy, was giving me the rundown for her road trip Saturday to Manhattan.
Like many of us, she knows the hottest game in the state this weekend will be the annual football battle between Kansas and Kansas State.
Although the game is televised, thousands of fans also will be making the trip to play in that other growing sporting event - tailgating.
And they'll be taking their favorite tech gear with them, ranging from portable grills to satellite TVs. Some even will be dreaming of Jetsons-style party robots.
Grill envy
Everybody knows, whether you're a meat lover or a vegetarian, it all starts with the grill.
It has to be easy to carry. It has to be big enough to feed your party. And it shouldn't be a chore to clean.
I'm still a big fan of the Coleman's RoadTrip grill.
The grill has an attached lid, two 10,000-BTU burners, and two interchangeable flat or grate surfaces that give you lots of cooking options and clean up easily in the dishwasher.
It comes with a fold-up table that takes about a minute to set up. And there's no charcoal to worry about - it runs off a 16.4-ounce bottle of propane.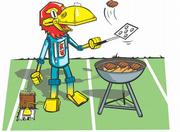 There's only one bad thing about it. Mine seems to draw a crowd whenever I tailgate with my daughter Katy's friends, including Kristen Tedrow, Robyn Shelley, Sam Carmean, Casey Wallace and Rex and Jan Tedrow.
Whenever we grill in the neighborhood just north of Kansas University's Memorial Stadium, there are always a few new faces coming by to check it out. Some seem almost a little too curious.
Fortunately, Derek Wallace, Joel Dankenbring and Lance Hoover usually can be bribed with a brat or two to discourage any thoughts of larceny.
I'm not the only one who swears by the RoadTrip grill.
Kevin Lashley, a 1991 K-State graduate who lives in Lawrence, is taking his along Saturday to the KU v. K-State game.
Audio clips: David Gustafson, professor of computing and information science at Kansas State University.
Links
"It's awesome," said Lashley, a Catbacker who travels to many K-State games each year. "It's just so practical because it folds up and is so small and you just pop it out with your steaks, brats and burgers. To me, it's a lot better than getting out all the charcoal, bringing the charcoal lighter and then having to worry about extinguishing the coals."
Coleman has come up with a new RoadTrip model that looks like it's even easier to set up and carry.
The RoadTrip Grill XLE model ($188) comes with an X-style chassis that folds up and down, scissors style, and locks in place.
It also has a new grease management system that makes it easier to get rid of the drippings.
Back to wood
Speaking of cleanup, one of the reasons many people forego charcoal grills for propane is because of the mess.
But Woodflame, a company out of Canada, has come up with a portable grill that brings back the taste of smoke without the cleanup mess of the leftover coals.
Woodflame's Delecto Portable Wood Barbecue (about $250) grills with small blocks of wood blazing at 1,000 degrees in under two minutes, leaving nothing but a small amount of ash in the combustion chamber.
The key to the grill is a nine-speed electronic forced-air system powered with D-cell batteries or with an electrical adapter that allows for extensive heat control.
Start your blenders
Besides the grill, a host of other tools and innovations are available.
One of my prized possessions is a low-tech gift from Justin and Jessica Clossen from a tailgate last year - a Jayhawk branding iron. It works great on chicken.
During KU's last home game, I met Greg Barr and Jessi Corkill, who had a handy Coleman picnic table that folded up into a case and a cool Weber Q portable grill.
Barr also showed off his latest gadget - a magnetic beer koozie. Magnets on the side and the bottom enable it to stick to your car, truck or any steel surface.
There's still one major item left on my wish list.
It's the TailGator Classic, a gasoline-powered blender that runs on a 24cc, 2-stroke, 2.25-horsepower engine ($299 at Cabela's).
You pull on a cord to fire it up and it delivers enough torque to blend up a frosty concoction in about 15 seconds.
Purple my ride
For some tailgaters, it's all about the vehicle.
Jeremiah Johnson, a 2002 K-State graduate who's now a KU law student and lives in Lawrence, has a 1966 Chevy school bus that's been customized for game-day travel.
"We'll be heading out at 6 a.m. Saturday," Johnson said.
The bus has a 350-cubic-inch engine and a five-speed manual transmission. The interior has five matching couches and a card table with purple vinyl seats.
And then there's the electronics - a sound system, a TV hooked to a DVD player and a Direct TV satellite dish and a portable generator that powers two air conditioners.
Future plans call for a 50-inch plasma fold-down screen from the ceiling, concert speakers and a gas-powered blender.
Not only that, but the bus has gone digital - it has its own dedicated Web site at www.ksubus.com.
Rock Chalk trailer
KU's Alumni Association won't be outdone in tailgating department. Jill Simpson, director of chapter development, told me the association had taken tailgating to a new level.
This year, the alumni association has outfitted a Rock Chalk trailer full of tailgating gear that's equivalent to taking a restaurant on the road.
The new trailer, which is going to every home game and away game, is equipped with two monster grills - 60-inch commercial-size propane units.
Simpson expects the trailer/grill set-up to feed about 125 Jayhawk fans Saturday at K-State. The cost is $10 a head and includes soft drinks.
The pre-game event will be set up in the corner of the parking lot at Denison and Kimble streets next to the stadium.
Bud-bot?
With tricked-out trailers and buses with Web sites, are Jetson-style robots far off?
Maybe in 20 years or so, said Arvin Agah, a KU associate professor of electrical engineering and computer science who teaches robotics classes.
"It would be cool if this robot gets out of your car and starts catering," Agah said, laughing. "Maybe it could barbecue for you and flip the burgers on the grill."
Actually, something similar might not be that far off, says a K-State professor who also teaches robotics.
"We've done some host robots that went around and served food," said David Gustafson, professor of computing and information science. "You could easily do that at a tailgating. You could let everybody just sit in their easy chairs and it could bring drinks and food around."
K-State students entered such a robot three summers ago in an American Association for Artificial Intelligence competition. The robot wheeled around to serve food, using sonar to navigate and infrared sensors to distinguish people from inanimate objects.
"Anything that was warm, it went over and offered food to," Gustafson said. "It could have worked outdoors fine. We've got robots that could handle rough terrain. Curbs would be a problem."
What's the cost? About $5,000 for the mobile unit, with another $400 to $500 for the sensors, he said.
Gustafson said he'd be at the game Saturday, "but not with my robots."
Cross-town tailgate
Later in the week, Katy was still trying to decide whether she'll go to the game.
It looked doubtful. A lot of her friends are staying in Lawrence to watch the game on TV. And making it before the 11 a.m. kickoff means getting up early.
"I don't know for sure that I'm not going to go," Katy told me. "I have some friends there, so I'm playing it by ear."
That's fine with me.
If she stays, I might just pack up my RoadTrip grill and set up camp out in her driveway.
Hmm.
If she doesn't go, I wonder if she'll throw in the saved gas money to help me buy a robot kit?
Copyright 2018 The Lawrence Journal-World. All rights reserved. This material may not be published, broadcast, rewritten or redistributed. We strive to uphold our values for every story published.