Chicago — Frank Thomas couldn't contain his excitement when he was introduced before the first playoff game, pumping his fist and grinning while the fans gave him a standing ovation.
Then the best slugger in Chicago White Sox history limped off, disappearing into the clubhouse while his teammates took the field to play Boston. In a cruel fate, the White Sox are making a rare postseason appearance, and the guy who's been the face of the team for 15 years can only be a cheerleader.
"It's very difficult. But hey, I'm happy for the guys," said Thomas, out since July because of a broken foot and on the field Tuesday only to throw out the first pitch.
"It's tough because I want to go out and help, but I can't," he said.
The Big Hurt isn't the only one. Almost all of the playoff teams are missing one of their biggest names, stars who could make a difference between a World Series title and an early exit.
Boston closer Keith Foulke, who had an 0.64 postseason earned-run average last year, is out. So is Scott Rolen, the All-Star third baseman for St. Louis. Atlanta is missing pitcher Mike Hampton, San Diego lost Jake Peavy in the first playoff game, and the Yankees don't have Kevin Brown.
Houston still has Jeff Bagwell, though the slugger is only a shadow of his All-Star self.
"I couldn't imagine," Boston catcher Jason Varitek said. "This is the time of year you play for."
Thomas was the only thing the White Sox had going during many lean years, a two-time AL MVP who could hit homers as easily as most players hit singles. But his power wasn't enough to carry the White Sox, and he's only played in the postseason twice. Chicago lost to Toronto, 4-2, in the 1993 AL championship series, and was swept by Seattle in the first round of the 2000 playoffs.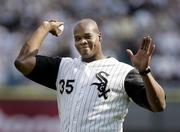 Now 37, Thomas knows his chances of winning a World Series are running out.
He may not be the hitter he once was, but he still can give pitchers the willies. After missing the first two months recovering from offseason ankle surgery, he hit 10 homers in his first 69 at-bats and helped the White Sox open a commanding lead in the AL Central.
Then Thomas broke a bone in his left foot in late July, forcing him to miss the rest of the season.
"It's sad," said White Sox infielder Willie Harris, a close friend of Thomas. "That's all he ever wanted to do was play in the playoffs."
Everyone is bound to lose at least one key player during the season. How a team adapts is the difference between making a run in October and sitting at home.
"Teams that can withstand (losses) through depth or transactions are the ones that come out ahead," Red Sox general manager Theo Epstein said. "If you don't build up depth during the offseason, you're in trouble. And if you don't adjust during the season, you're dead."
Look at the playoff teams.
Rolen is a six-time Gold Glover who had four straight 100-RBI seasons, but he played only 56 games before having season-ending shoulder surgery. Abraham Nunez was an impressive replacement at third, and the Cardinals relied on Albert Pujols, Jim Edmonds, David Eckstein and their pitching to carry them to 100 victories and the NL Central title.
"That's just the way the season played out," Cardinals manager Tony La Russa said. "We lost four regulars, three of them boppers. The guys that took their place do a terrific job of handling the bat, and we played a little different game because we were pitching well."
When Foulke's season ended, the Red Sox at least had veteran Mike Timlin to bail them out. But they also had to lean heavily on a guy who began the year in Double-A (Jonathan Papelbon) and one who was a first-round pick in this year's draft (Craig Hansen).
Hampton won 27 games during the last two years, but he made only 12 starts this season because of four trips to the disabled list and had Tommy John surgery last week. But the Braves got 11 or more wins from four pitchers, including 14 each from John Smoltz and Tim Hudson.
New York might have had the easiest adjustment because Brown was never much of a factor. He was on the disabled list three times, made only 13 starts and didn't pitch after July 24.
"We never really lament about things we don't have," Yankees manager Joe Torre said. "Kevin has had physical problems all year, and really hasn't been a part of this thing for a while."
Bagwell missed 115 games after surgery on his right shoulder, and the four-time All-Star with 449 career home runs has only been able to pinch-hit since being activated Sept. 9. But he had key at-bats to help Houston clinch the wild card last weekend.
"To come back and actually contribute a little bit and help our club win a game or two, it feels good," Bagwell said.
Copyright 2018 The Associated Press. All rights reserved. This material may not be published, broadcast, rewritten or redistributed. We strive to uphold our values for every story published.