When Krissie Newman met her husband, Ryan, she was clerking for a judge in Charlotte, N.C., and considered racing something you fell asleep watching on Sundays.
Now her life and year-old marriage revolve around the NASCAR circuit that used to flicker on her television. She travels to almost 40 races during NASCAR's 10-month season, at tracks from Las Vegas to Martinsville, Va.
Most NASCAR wives share their husbands' nomadic lives, joining them on the road. Some work actively in the business; some adopt more traditional roles. They all have one thing in common: They are racing fans, but they never forget how dangerous the sport is.
"You could drive yourself crazy thinking about it," says Stephanie Hamilton, Bobby Hamilton Jr.'s wife.
NASCAR's normal
People are always asking Newman what it's like to be married to a NASCAR driver.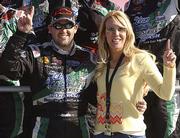 "It's not different," she said. "He leaves dirty socks on the floor."
That might be typical, but their schedule isn't.
Everyone else's "normal" weekend is their busiest time. Shana Mayfield, wife of Jeremy, says, "You try to fit a normal life into three days."
The Mayfields have already given the world a glimpse of their version of normal. They appeared on a reality TV show, FX's "NASCAR Drivers: 360." It recorded them doing mundane things - driving around their North Carolina property in a truck, playing with their three dogs.
"They showed my closet, and what a wreck it was, and my shoes everywhere," Mayfield said.
Early in the week, wives squeeze in doing the laundry, paying the bills, running around with the kids and enjoying being home. Many of the drivers go to appearances and testing runs during the week. And it's not long before ...
"You're leaving again Thursday," Mayfield said.
Business savvy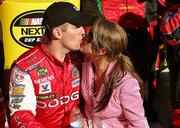 DeLana Harvick's father was a racecar driver, and she grew up doing everything from sweeping the floors at the shop to keeping score at the races.
"From an early age, I was a pretty integral part of my dad's team," she said. "It was just a natural progression when I met Kevin."
Harvick is heavily involved in Kevin Harvick Inc., which fields Busch and NASCAR Truck series teams. She focuses on the licensing and merchandizing work and the day-to-day management of 50-plus employees. When it comes to the actual racing decisions, she said, she and Kevin discuss everything.
"Do we talk about the personnel on the team? Absolutely," she said. "Do I have an opinion on that? Yep.
"I guess Kevin Harvick Inc. is our baby," she said.
Most NASCAR wives aren't involved in the business as much as Harvick. But they help with scheduling, appearances, charity events and bookkeeping. They often do that work using Internet connections in the motor coaches.
Biggest fans
Above all, NASCAR is a business, though one inherent with the risks of competing at 190 mph. The drivers and their loved ones inevitably feel the pressure.
"NASCAR has gotten so huge, it's a lot of pressure and a lot of commitments and a lot of extracurricular stuff you have to do besides racing," Mayfield said.
"When he's in the race car, it's the most relaxed I see him."
Like all spouses, NASCAR wives provide the most crucial kind of support.
"I don't think people realize the pressure wives have to go through," Harvick said.
The time just before a race can be the hardest on the wives. They know full well the dangers of the sport. Many walk to the track with their husbands and stay close until the race begins.
Hamilton said part of her imagines Bobby as invincible during the races, but ...
"I'm there until 'Gentleman, start your engines,'" she said. "I'm there until the last second. I probably get teary-eyed every time I put him in the car."
Bobby Hamilton Jr. values the support he receives from his wife.
"I really couldn't do this without her," he said. "If something were to happen to me tomorrow, I would be so thankful I had her as my wife, and that we had such a beautiful daughter together."
Copyright 2018 The Lawrence Journal-World. All rights reserved. This material may not be published, broadcast, rewritten or redistributed. We strive to uphold our values for every story published.