Jeff Morrow loves his grass.
He smiles, as if secretly pleased that he has outsmarted Mother Nature, while he shows off his fuzzy, soft, blue-green lawn.
Why is Morrow so stoked about his grass?
Because it's virtually stress-free. It requires no water, no fertilizer and very little mowing. And that all adds up to Morrow being able to sit back and enjoy the good life.
"Yard work is work. Work is a four-letter word," he says. "I want to spend my disposable income and time having fun, not spend it on toiling away doing yard work."
His lawn is beautiful. Long, thin blades of buffalo grass billow in the breeze. The color is not Kelly green, like most fescue lawns in the Lawrence area, but rather a gorgeous mixture of pewter, blue and green that plays off the sunlight and the blue spruce and crab apple trees Morrow has planted in prominent positions in the front yard. The grass is soft to the touch and interesting to watch on a breezy day.
The Cedar Creek development uses this low-maintenance buffalo grass quite liberally, says Cindy Shafer, community service manager for the development near Free State High School. It's a great way to make a large area like Cedar Creek look lush and inviting but not break the bank while doing so, she says.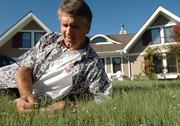 "There are several reasons to use buffalo grass. It has a wonderful native look and is a warm-season turf, which means it cuts down on our maintenance costs by not having to mow as often, or water as frequently, or fertilize at all," Shafer says. "At Cedar Creek, we use the Prairie Cultivar for the parkway and median areas, and we use the 609 Cultivar for many of our homes."
Buffalo grass is a native perennial grass whose roots have taken hold of the central United States and down through central Mexico. The grass used to provide sod for the homes of the region's early settlers. It also sustained the bison population that once roamed freely in the area; hence, the name. The grass is easy to destroy by cultivation, so it can easily be removed from flower beds and gardens if it begins to creep.
Buffalo grass is a low-growing grass that typically only reaches 8 to 10 inches high and then stops; the tall blades then fall over, giving the appearance of a short, neatly trimmed space. It doesn't need to be fertilized because it is a native genus whose needs are already provided for by the natural landscape. It requires little to no water because, again, it has adapted to its native area and the roots run deeply into the earth rather than staying near the surface like many fescues and bluegrasses.
But it's not all wine and roses for the buffalo grass lawn.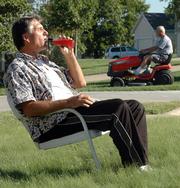 "Areas in western Kansas have buffalo grass in almost every yard by necessity; it is hotter there and generally drier," she says. "In this area, we are more of a transitional region where we have the luxury of choosing either a cool-season grass or a warm-season grass. The cons to a warm-season grass is that it will green up later in the spring because the ground temperatures are still cool, and buffalo grass will generally become a golden, tan color by November. It is just genetically predisposed to going dormant around November. It also will not grow in the shade or perform well in high-traffic yards."
Morrow doesn't much care about those pitfalls. As far as he's concerned, buffalo grass is aiding his quest to live life on his own terms.
"There are a million different ways to live your life, and this grass is low-maintenance - as is my life," he says. "I don't do anything; I don't even water it, and I love that. I've only mowed about 20 times in five years, and my barometer for that is when I can no longer find the dog poop, then I know it is time to mow.
"In fact, I cannot remember the last time I took my lawn mower in to be serviced."
Morrow purchased his buffalo grass seed on the Internet and admits that it was a bit expensive, but he thinks it has more than paid for itself. Morrow's neighbor has buffalo grass as well, so the trend is catching on, leaving more time for play and less anxiety about "keeping up with the Joneses' green lawn."
Copyright 2018 The Lawrence Journal-World. All rights reserved. This material may not be published, broadcast, rewritten or redistributed. We strive to uphold our values for every story published.