Kansas University senior Josi Lima left the locker room wiping away tears.
Sure, the Jayhawks had lost Wednesday's match to Kansas State, 3-0, at Horejsi Center. But Lima had just lost her best friend. Again.
"She tore her ACL," Lima said softly, referring to the injury of teammate Jana Correa, "so that's a huge loss for our team."
Lima had seen it before. Two years ago, Correa suffered a season-ending injury to her knee in pregame warmups against Oklahoma.
This time - with the Jayhawks as focused as they had been all season in Game One - Lima saw her friend collapse after a spike at the net.
And what once was a raucous crowd of 1,300 was silenced, hearing only Correa's sobs as she clutched her right leg.
"She's my best friend - I hurt with her," Lima said. "I'm just shocked right now. It's hard to go through all over again."
Some of Lima's tears could have come from the realization that it might have been her last game with Correa as a teammate. The two also played together in Brazil at the University of Sant'Anna.
"It's really hard," Lima said, "because me and her kind of push each other more than anybody else."
Lima and the Jayhawks never recovered after Correa went down, dropping three straight games (30-25, 30-24, 30-23) to the 20th-ranked Wildcats.
The victory continued K-State's dominance in the Sunflower Showdown. The Wildcats have won the last 15 matches in the series.
KU fell to 12-4 overall and 4-3 in the Big 12 Conference.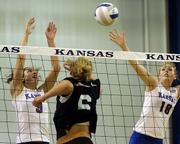 "I thought they were as ready to play as I've ever seen them," KU coach Ray Bechard said of his players. "They're just heartbroken right now."
K-State dominated at the net, finishing with 17 total team blocks to Kansas' seven.
"They seemed to have a comfortable lead in all games, so they could play pretty relaxed," Bechard said. "We're very disappointed that we couldn't elevate our level of play. When you get a little thunderbolt like we got in game one, it's very difficult to replace a kid like Correa."
The loss ended a 14-match home win streak for Kansas.
The Jayhawks will have to pull together quickly without Correa, as the team will play host to No. 1 Nebraska at 7 p.m. Saturday at Horejsi.
"We just have to be there for her," senior Andi Rozum said, "and win for her."
Copyright 2017 The Lawrence Journal-World. All rights reserved. This material may not be published, broadcast, rewritten or redistributed. We strive to uphold our values for every story published.