Few of us have door knockers on our bedroom doors, but in the 1930s, painted cast-iron inside door knockers were popular. Inside door knockers became a minor product for companies, such as Hubley Manufacturing Co., that made household appliances, toys like electric trains and model cars, figural bottle openers, doorstops, banks and even guns. Door knockers were made in many shapes. Bunches of flowers, geometric medallions and birds were favored. Hubley made at least five different bird shapes: a parrot, owl, rooster, cardinal and woodpecker. We suspect the woodpecker knocker delighted young children who thought it funny to annoy everyone with the sound of a woodpecker pecking loudly. And perhaps an inside door knocker assured a teenager that no one would enter the room unannounced. If you want an old inside door knocker today, expect to pay $100 to $300 for a common knocker. Rarities like a dachshund will bring up to $1,500.
Q: About 35 years ago, my mother retrieved a wooden spool cabinet that was being thrown away. The cabinet has five glass-front drawers, each with two teardrop pulls. It's in great shape. The words on the red and black glass drawers, from top to bottom, are "George A. Clark," "Sole Agent," "Spool Cotton," "O.N.T.," "On White Spools." Can you provide any history?
A: Spool cabinets, with shallow drawers that held spools of thread, are prized by people who collect old store antiques and advertising and sewing collectibles. The Clark family of Paisley, Scotland, first manufactured cotton thread in 1813. By the 1840s, members of the Clark family were living in the United States, and in 1866 George and William Clark of Newark, N.J., developed a twisted cotton thread that could be used with sewing machines. They named the thread O.N.T., which stood for "Our New Thread." Although Clark and its major competitor, the J. & P. Coats company, consolidated their interests in the 1880s or '90s, the two firms retained separate identities until 1952. That's when they formally merged to form Coats & Clark. Most American spool cabinets date from between 1875 and 1915. If your cabinet has all of its original glass drawer panels and pulls, it could sell for several hundred dollars.
Q: I'm hoping you can identify the maker of my porcelain vase. It has a ball-shaped body with a narrow neck. A looping handle forms a half-circle across the top. The black vase is decorated with a color portrait of a woman sitting at a table next to a lighted candle. The marks on the bottom include a stylized triangle with a lighted candle inside, a banner that reads "Rembrandt Ware" and a circle enclosing the words "Made in Germany."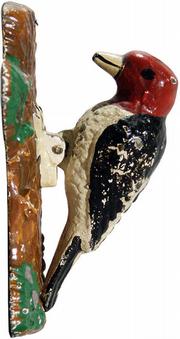 A: Your vase was made by Gebruder Heubach (Heubach Brothers), a company in Lichte, Thuringia, Germany, that's probably best-known for manufacturing doll's heads. The firm dates back to 1822 and is still in business under the name Lichte Porcelain. The candlestick mark on your vase was used between about 1909 and World War II. The words "Made in Germany" are found on German items made for export between the two world wars, from about 1918 to 1939. Depending on the quality, size and condition of your vase, it could sell for $100 up to about $500.
Current prices
Current prices are recorded from antiques shows, flea markets, sales and auctions throughout the United States. Prices can vary in different locations.
l Pigeon Forge pottery pitcher, dogwood blossoms, blue interior, 1958, 5 1/2 inches, $55.
l Labino stick vase, translucent green glass, blue and white drag loops, signed, 12 inches, $275.
l The Beatles "Yellow Submarine" lunchbox, Beatles in submarine, metal, thermos, 1968, $280.
l Crescent toy stove, nickel-plated cast iron, with pot and coal scuttle, 12 inches, $280.
l Victorian baby coach, wood body, cast-iron frame, iron canopy, adjustable, straw-stuffed upholstery, 48 inches, $295.
Copyright 2018 The Lawrence Journal-World. All rights reserved. This material may not be published, broadcast, rewritten or redistributed. We strive to uphold our values for every story published.