FONTANA, Calif. — A driverless red Hummer that was involved in a rollover accident during practice a few weeks ago snagged the pole position Wednesday in a government-sponsored sequel race across the Mojave Desert that will pit 23 robots against one another.
The finalists were chosen after an intense, weeklong qualifying run at the California Speedway, where the self-navigating vehicles had to drive on a bumpy road, zip through a tunnel and avoid obstacles. No human drivers or remote controls were allowed.
The Hummer named H1ghlander, built by Carnegie Mellon University, flipped during practice a few weeks ago when it struck a rock. But it still managed to complete all four required semifinal runs.
Last year, only half of the 15 autonomous robotic vehicles that ran in the so-called Grand Challenge passed the semifinals. No team claimed the $1 million inaugural prize because all the contestants broke down within a few miles of the starting gate.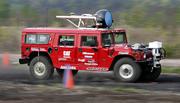 So this year, the sponsor, the Defense Advanced Research Projects Agency, doubled the purse with the hope that a vehicle would finish Saturday's $2 million race.
This year's finalists completed the hilly qualifying course littered with hay bales and parked cars at least once. Five of the vehicles finished it four consecutive times. Those included H1ghlander; a converted Humvee Sandstorm; a modified Volkswagen Touareg by Stanford University; a six-wheel truck; and a Jeep Grand Cherokee.
"I'm inspired by all the robots," said William "Red" Whittaker, a Carnegie Mellon robotics professor. "Never discount or diminish any of them."
The race is part of the Pentagon's effort to fulfill a congressional mandate to have a third of all military ground vehicles unmanned by 2015. The Defense Department envisions using robotic vehicles to bring supplies in combat zones.
Copyright 2018 The Associated Press. All rights reserved. This material may not be published, broadcast, rewritten or redistributed. We strive to uphold our values for every story published.