KANSAS CITY, KAN. — I already used up my miracle on squeezing through a tiny window and into the race car, so NASCAR Busch Series driver Johnny Sauter was on his own in safely getting us twice around the banked, 1.5-mile track at Kansas Speedway.
From his seat behind the wheel of the 700-horsepower, two-seat NASCAR-style stock car, Sauter turned to me, smiled, and said, "I'll try not to hit anything." Then he pulled the Richard Petty Driving Experience car off the pit road and gunned it onto the track. The rest of the ride was a blur, and hours later all I can tell you is the sinuses that were clogged are clear, the front of my face feels empty, and everything but my chins hurt. My head, my back, my pride, everything but my chins.
Photo Gallery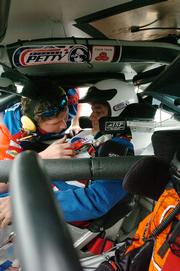 Riding with Keegan
As the cement wall seemed closer and closer to breaking my face, a thought occurred to me: Other than when I asked Albert Belle for an interview, never in my life have I been this scared.
Not when I sat in the upper deck at Candlestick Park in 1989 during the World Series and the television monitor above me shook wildly as smoke clouds mushroomed all over the place way beyond the outfield fences during the San Francisco earthquake.
Not even when the small jet on which I was a passenger flew too closely to a bigger one that flew above, got caught in the wake, and dipped on its side for an instant before straightening itself out.
Not when I mimicked Denny McLain in October 1968 and, instead of a baseball, I fired a milk carton against the kitchen wall at school. Just as it splattered, I heard the screaming voice of the sadistic principal, Sister Mary Daniel. The next thing to crash against the wall was my head. Repeatedly. The late Sister Mary Daniel, wherever she is, undoubtedly laughs about that to this day.
Sauter and I traveled at 170 mph on the empty track. It was a walk in the park for Sauter. And it was a brilliant way to market his sport. To ride shotgun to a NASCAR driver is to gain monumental respect for his courage and skill.
"People all the time say all you do is go in circles," Sauter said. "Until they actually feel the G-forces going around their body, that sensation of speed is something you don't nearly feel going down the highway. I think it opens people's minds quite a bit to what this is all about and what we do week in and week out."
As the car whistled around the turns, I had trouble focusing. It felt as if my brain couldn't keep up with the car. At the beginning, I was terrified. At the end, I was sorry it was over. The NASCAR drivers race for four hours and compete against 42 other drivers.
"We were moving at a pretty good clip," Sauter said. "We'll be going faster than that, an average lap speed of somewhere around 185, the straightaway speeds a lot faster. In traffic, we're going as fast as we can. There's really no margin for error, and we don't really slow down too much."
Daredevils, every one of them. That must be what they have in common.
"I don't know if we're daredevils," Sauter said. "The cars are pretty stable these days. I don't know really what we'd all have in common. I try not to make friends with the guys that I race with because somewhere down the road you're going to end up getting in a tussle with them and there'll be hard feelings, so it's just not worth it."
For the record, Sauter didn't hit anything during the ride.
Copyright 2018 The Lawrence Journal-World. All rights reserved. This material may not be published, broadcast, rewritten or redistributed. We strive to uphold our values for every story published.