Biloxi, Miss. — First came out-of-pocket medical expenses, the bills piling up faster than Jerry Gollott and his wife could pay them. Then, sidelined by heart and back ailments, the retired police officer fell behind on his $1,370 monthly mortgage payment.
It wasn't until Hurricane Katrina, though, that Gollott's tenuous hold on solvency turned into a financial freefall that forced him to liquidate in bankruptcy court.
The burdens of the storm eventually could send many others down the same path, but a change in U.S. bankruptcy laws could make recovery even harder for those who follow, experts say.
"It's like staring into a big black hole, not knowing what's gonna happen to you," Gollott said last week as he drove around the debris that litters his battered Biloxi neighborhood.
Legal experts say there likely will be a surge in personal bankruptcy filings along the Gulf Coast months from now, as residents return and take stock. The wait could make things harder for some, as tougher limits on bankruptcy take effect Oct. 17.
Some lawmakers and bankruptcy attorneys are pushing Congress to delay the new law for Katrina victims. The Justice Department this week waived a requirement to undergo pre-filing credit counseling for Katrina victims and gave bankruptcy trustees some discretion on easing other requirements.
"If the law is not modified, that will be one more casualty of the storm," said Bruce Richardson, a bankruptcy attorney in Baton Rouge, La.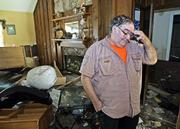 People like Gollott are filing now, mostly because they have no choice.
Even before the storm, Gollott had filed for Chapter 13 bankruptcy protection, which allows debtors to restructure their debts and keep their homes.
Then, the hurricane hit. It wrecked his home in a bayside Biloxi neighborhood and damaged his travel trailer outside. His wife lost her job as a harbormaster and could lose the couple's health insurance. Even with the insurance in place, Gollott had substantial medical expenses.
So the 59-year-old, now crammed into a friend's home with 11 other people, had to convert his debt reorganization to a full liquidation of his assets.
"The immediate needs are over - food and shelter," Gollott said. "Now, the long-term financial issues start."
His lawyer, David Lord, has been splitting his time between an office in Hattiesburg and his damaged office in Gulfport, where he parks the motor home he's been living out of when he's on the Gulf Coast meeting with clients.
"On the coast, so many homes were totally destroyed by flood water where there's the issue of insurance coverage," Lord said. "Without that insurance, they won't be able to replace their homes and will be homeless. Many of them have lost their job and their home."
Lord said that for those who do have insurance, the claims process has been slowed, and people need to know how much insurance will pay before filing for bankruptcy.
Heading to bankruptcy court is likely low on the current list of priorities for most Katrina refugees, lawyers say.
But some lawyers in Louisiana - including Richardson in Baton Rouge - are advertising to remind homeowners affected by the hurricane about the new bankruptcy law.
"I think a lot of people who have been impacted by the hurricane and have been basically wiped out may not realize there is going to be a big change," said Lawrence Anderson, a bankruptcy lawyer in Baton Rouge.
Under current law, Chapter 7 liquidation allows a person whose home was destroyed to essentially return the home to the lender, which would receive any insurance proceeds or take a loss if the payout is less than the loan balance. Chapter 13 reorganization, less likely for people without flood insurance who lost homes, would allow owners to keep their homes while they try to pay off their debts.
But the new law puts income limits on who can file Chapter 7 and requires those allowed to file to go through credit counseling. Though Katrina victims have a temporary reprieve from the before-filing counseling, relaxing other requirements is up to individual trustees.
Anderson said the Justice Department's action won't solve the real problem facing Katrina victims - the income level and document production requirements.
Copyright 2018 The Associated Press. All rights reserved. This material may not be published, broadcast, rewritten or redistributed. We strive to uphold our values for every story published.