Cooler temperatures welcomed the 12U Fireballs and Wakarusa Kids to the field for their Saturday afternoon game at Youth Sports Inc. The game was a tale of two halves with the Fireballs coming out on top, getting the 4-2 win.
"I moved the kids around during the second half to give the defense a different look," Fireballs coach Mike Murphy said. "Moving the kids around gives them an opportunity to play the different positions and influences our scoring options."
Early in the game the Fireballs had a goal negated after an offside penalty, but rebounded to break through two defenders and put the ball in the net to get on the scoreboard first.
The Fireballs brought the ball back in front of their goal, but Wakarusa Kid Blake Freeman cleared the ball out of the zone.
The Fireballs hit the goal post a couple of times but couldn't get the ball into the net.
Offside penalties haunted both teams in key throw-in situations.
Halfway through the first half, Fireball Michael McGill scored another goal on the assist by Luke Matthews.
Right before the end of the half Conner Murphy put a kick in the back of the goal for the Fireballs to give them a 3-0 lead heading into halftime.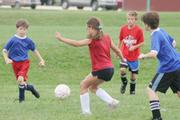 Wakarusa Kids came out in the second with some firepower but good defense from the Fireballs cleared the ball out from the goal and kept the score at 3-0.
Zach Andregg found the net for the Wakarusa Kids to get them on the board. Wakarusa kept the ball down around their goal and had some good looks at the net they couldn't capitalize on.
Jenny Freeman kicked the ball to left side and kept Wakarusa on their comeback, bringing the Fireballs' lead to one.
The Fireballs switched their personnel back to their starters to seal the game with a late goal by Conner Murphy and held on for the 4-2 victory.
"We were able to spread the ball around, which at this age is hard to do," coach Murphy said. "Dribbling out of the defense is something our forwards were able to do which created scoring opportunities."
The Fireballs, 3-0, hope to continue with the success they have had through three games.
Copyright 2018 The Lawrence Journal-World. All rights reserved. This material may not be published, broadcast, rewritten or redistributed. We strive to uphold our values for every story published.