A lot has been - and will be - made of the fact that President Bush's latest U.S. Supreme Court nominee, Harriet Miers, has never been a judge.
That doesn't bother Steve McAllister, former dean at Kansas University's School of Law.
"I like the fact that she's truly a practicing lawyer," McAllister said Monday.
Miers, 60, was in private practice from 1972 to 2000. She was president of the State Bar of Texas and the Dallas Bar Assn. in 1992-93 and 1985, respectively.
"She's seen the law at its ground-level application," said McAllister, who served nearly three years as a law clerk for Supreme Court Justices Byron White and Clarence Thomas.
McAllister said he also welcomed news that Miers has held public office - Dallas City Council, 1989-91 - and that she's a 1970 graduate of Southern Methodist University's School of Law.
Most justices, he said, have attended Ivy League schools and have served on the state or federal bench. Few have held elective office.
"There's been a similarity in backgrounds that I've found troubling," he said.
In his role as dean, McAllister has hosted Justices Thomas, White, Stephen Breyer, Antonin Scalia and Ruth Bader Ginsburg. He said he had not met Miers.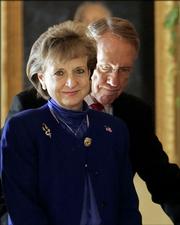 At Washburn Law School in Topeka, Associate Dean Bill Rich said he, too, welcomed the prospects of adding a nonjudge to the bench.
"It's a good thing for the court to have a range of experiences," Rich said. "I see the difference in her experiences being a positive rather than a negative."
Former Kansas Supreme Court Justice Fred Six said he was glad Bush had nominated a woman to fill the vacancy created by U.S. Supreme Court Justice Sandra Day O'Connor's retirement.
"I'm not familiar with (Miers). She's not been on the list of front-runners that I've been reading about," Six said. "But I'm pleased the president nominated a woman, and I'm delighted that she comes from the private-practice side of things."
Of the Supreme Court's nine justices, O'Connor and Ginsburg are the only women.
In Kansas, Miers' nomination has the attention of both sides in the abortion debate.
Coupled with John Roberts' recent confirmation as chief justice, O'Connor's replacement could alter the court's ideological balance on abortion rights.
"Time will tell. There's a lot we don't know yet," said Julie Burkhart, executive director at ProKanDo, an abortion-rights group. "We hope she will uphold the Constitution and that, as a woman, she understands how important these issues are to women's lives and health."
At Kansans for Life, executive director Mary Kay Culp said she and others were wary of the administration's early assurances that Miers was "pro-life."
"There's pro-life and then there's pro-life," Culp said.
Abortion opponents, she said, are hopeful that the new court will outlaw a procedure that some call "partial-birth abortion" and require parental notification when minors seek abortions.
"But that's not enough. We have to go further than that, we have to get rid of Roe," Culp said, referring to Roe v. Wade, the Supreme Court ruling that upheld a woman's right to an abortion.
Sen. Sam Brownback, R-Kan., a strong foe of abortion, pointedly declined to issue a statement responding to the nomination.
Copyright 2018 The Lawrence Journal-World. All rights reserved. This material may not be published, broadcast, rewritten or redistributed. We strive to uphold our values for every story published.