Membership in 4-H is not just about cows, crafts and cooking. It's also about making friendships, helping the community and becoming a leader.
Douglas County 4-H'ers are marking National 4-H Week - Oct. 2-8 - by urging area youths, ages 7-19, to join the organization. There are more than 500 4-H Club members in the county, and more than half of them live in an urban area.
One of them is Jamie Morgison, 13, a Meadowlark 4-H Club member and secretary of her club.
Morgison, a Central Junior High School student, said 4-H provided her with the opportunity to meet new people outside of school. She said she made new friends through 4-H by attending events such as summer camp and the Douglas County Fair. She said she enjoyed filling her free time with 4-H projects such as cooking, clothing and photography.
Would she recommend 4-H to her peers? "Definitely," she said.
Kimbreley Davis, Douglas County 4-H youth development agent, said 4-H was designed to help youths acquire five life skills: nurture a positive self-concept, promote sound decision-making skills, develop positive interpersonal relationships, instill the desire for lifelong learning and develop a concern for the community.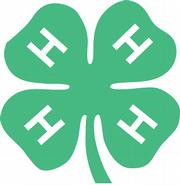 Lawrence High School senior Callie Fishburn, a Lone Star 4-H Club member, is a Douglas County 4-H ambassador.
"Four-H has taught me many life skills," Fishburn said. "Four-H has helped me to be more outgoing, and I have met many new people from across the nation that I would have never met without 4-H."
She said she had made new friends by attending activities such as summer camp, Kansas Youth Leadership Forum and Discovery Days, a mini-college at Kansas State University.
"Without 4-H, I would never have made these great friendships," Fishburn said.
A new year
October is a great time to join 4-H because it's the start of the organization's calendar year, which runs through September. There are no fees or costs to join a club; interested youths need to fill out an enrollment form that is available at the K-State Research and Extension - Douglas County office, 2110 Harper St.
Photo Gallery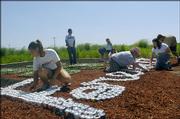 4-H turns 100
Newly elected club officers begin their positions in October. They help conduct monthly meetings throughout the year. Meetings generally include a business session, project presentations, recreation and refreshments.
Club members also start the 4-H year by deciding what projects they will work on during the coming months. There are 50 projects with 135 phases or degrees of advancement.
"From beef to bicycles and from arts and crafts to rocketry, 4-H has it all," said Davis, who has been the county 4-H agent for two years.
Lone Star 4-H member Leslie Queen, 13, a South Junior High School student, said she enjoyed working on 4-H projects such as swine, clothing, woodworking, hand pets, cooking, crafts and home environment. She said her pig, Lucy, won a champion ribbon last year at the fair. She said she had won grand champion awards in cooking for some Danish bear claws and in clothing buymanship.
While working on projects, club members keep a record book of their 4-H work. Record books inform leaders of a member's progress. Members work toward pins and awards at the county, state and national levels.
Life skills
A national 4-H alumni study found that 4-H, more than any other youth organization, helped young people develop public speaking and presentation skills. Four-H alumni also were identified as more actively involved in their communities as adults.
In 1996-97, the first study of comprehensive life skills and the impact of participation in Kansas 4-H Clubs was conducted. Former 4-H members enrolled between 1920 and the 1980s were surveyed. The survey found:
The 4-H emblem The 4-H emblem is the four-leaf clover with the letter H on each leaf, standing for head, heart, hands and health. The 4-H pledge I pledge my head to clearer thinking, my heart to greater loyalty, my hands to larger service and my health to better living, for my club, my community, my country and my world. Fun facts Here are some facts about Kansas 4-H, according to K-State Research and Extension: ¢ Since 1905, Kansas 4-H programs have served nearly 490,000 children. ¢ By 2004, only 14 percent of those who participated in Kansas 4-H programs were from farms. ¢ Last year, Kansas 4-Hers completed 181,673 projects and programs with the greatest participation in foods and nutrition. Rounding out the top five most popular projects were arts and crafts, clothing and textiles, beef and photography. Get involved ¢ To learn more about taking part in 4-H, see our list of area clubs on page 2E. ¢ These Web sites also contain useful info: www.oznet.ksu.edu/douglas www.kansas4h.org www.fourhcouncil.edu
¢ Four-H participation significantly contributed to the five life skills.
¢ Four-H contributed to an attitude of lifelong learning.
¢ Skills learned in 4-H were used later in the workplace.
Kaleb Horne, a Baldwin High School junior, said he had learned about responsibility and leadership through 4-H. An example, he said, was taking care of cattle as part of a 4-H project and being president of Palmyra 4-H Club.
"Four-H is a great teacher of life skills, and I have learned a lot from it," he said.
Horne also said the 4-H program had allowed him to travel to places such as Washington, D.C., where he visited monuments, met congressmen and other 4-Hers from across the United States.
State celebration
Kansas is celebrating 100 years of 4-H. The yearlong celebration kicked off last month at the Kansas State Fair.
As part of the celebration, Douglas County 4-H'ers worked with Lawrence artist Stan Herd to commemorate the milestone with crop art at Pendleton's Country Market. Douglas County 4-H ambassadors are selling 4-by-6-inch pictures of the crop art. Unmatted pictures cost $5, and matted pictures are $7.
Also on sale this year is the Kansas 4-H Centennial Cookbook, which includes recipes from 4-H'ers across the state. The cookbook costs $15.
The pictures and cookbook can be purchased at the Douglas County Extension office, and the proceeds benefit the 4-H program.
Kansas 4-H also is having a statewide community service project to fight hunger. Youths across the state are encouraged to participate by:
¢ Growing produce that will be donated to local food banks.
¢ Collecting donations of nonperishable food items for local food banks.
¢ Donating time to local agencies.
¢ Collecting monetary donations that can be used to purchase perishable food items.
The service project is just one of many ways the organization is working "to make the best better."
- Teen Board executive editor Karrey Britt can be reached at 832-7190; Teen Board member Wesley Callahan is a senior at Baldwin High School.
Want to Join?
Here's a list of the Douglas County 4-H clubs along with when and where they generally meet: ¢ Clinton Eagles, 7 p.m., first Monday of the month, Wakarusa Valley School. Contacts: Marilyn Colgan at 748-0721 and Lanaea Heine at 748-0787. ¢ Eudora, 7 p.m., first Monday of the month, St. Paul United Church of Christ. Contact: Pam Hadl at 542-2418. ¢ Four Leaf Clover, 7:15 p.m., second Monday of the month, Building 1 at Douglas County 4-H Fairgrounds. Contact: Paula Aiken at 842-8503. ¢ Jayhawk, 7 p.m., second Monday of the month, Grant School. Contacts: Richard and Kelly Williams at 597-5823. ¢ Kanwaka, 7 p.m., second Monday of the month, Kanwaka Hall. Contacts: Leann Dickson at 841-4543 or Carey Rainey at 865-5277. ¢ Lone Star, 7:15 p.m., second Monday of the month, Lone Star Church. Contacts: Mary Berg at 748-0926 or David Metsker at 748-9874. ¢ Meadowlark, 7 p.m., second Tuesday of the month, Building 21 at Douglas County 4-H Fairgrounds. Contacts: Doug and Kay Miller at 841-3276. ¢ Palmyra, 7 p.m., first Wednesday of the month, Ives Chapel in Baldwin. Contact: Megan Brown at 542-1150. ¢ Pioneers, 7 p.m., fourth Monday of the month, rotate among 4-H'ers homes. Contacts: Larry and LaDonna Wilson at 594-2547. ¢ Stull Busy Beavers, 6:30 p.m., second Monday of the month, Stull United Methodist Church. Contact: Gina Schumann at 887-6754. ¢ Vinland Valley, 7 p.m., first Monday of the month, Vinland United Methodist Church. Contacts: Sandra Stone at 542-5031 or Cheryl Hunsinger at 841-0643. For more information, contact Kimbreley Davis, Douglas County 4-H youth development agent, by telephone at 843-7058, ext. 14 or by e-mail at KSDavis@oznet.ksu.edu, or click on www.oznet.ksu.edu/douglas.
Copyright 2018 The Lawrence Journal-World. All rights reserved. This material may not be published, broadcast, rewritten or redistributed. We strive to uphold our values for every story published.